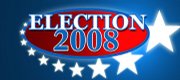 In-depth coverage of the candidates and the issues, all leading up to the Aug. 5 primary and the Nov. 4 general election.
Boston — In a presidential election full of firsts, longshot candidate Ralph Nader says he has made his own mark -with his mouth.
Nader said he broke the Guinness World Record for most campaign speeches in a day after he delivered at least 255 minutes of speech in 17 Massachusetts communities Saturday. He was planning to make four additional 15-minute speeches at campaign stops before officials from the widely acclaimed authority on record-breaking achievement verify his feat.
Nader spokesman Ryan Mehta said the so-called "Massachusetts Marathon" sought to raise awareness because two-thirds of the nation doesn't know Nader is running as an independent. The campaign speech record would be a bonus.
Guinness officials said Nader needed to give 15 speeches Saturday to set the record, which has never been attempted. The speeches must be at least 10 minutes long and at least 10 people must be at each stop who didn't come with Nader.
As he did in Boston, Nader said he called for drastic cuts in military spending and hammered away at corruption in Washington and the recent Wall Street bailout bill, which he likened to the policies that started the American Revolution.
"Given that monstrous bailout bill, it's still the same message: taxation without representation," Nader told about 40 supporters at a morning speech in front of the Federal Reserve Bank of Boston.
Even with all the chances to speak, Mehta said a key challenge was making sure Nader didn't talk too much and blow the schedule.
"He does like to talk over his allotted time," Mehta said.
The tour, including traveling musicians, was to visit various settings, including a deli, farmer's market and library.
Copyright 2017 The Associated Press. All rights reserved. This material may not be published, broadcast, rewritten or redistributed. We strive to uphold our values for every story published.