Photo Gallery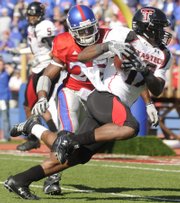 KU vs. Texas Tech
Audio Clips
2008 KU-Texas Tech football
Spodcasters
Spodcasters Postgame: Texas Tech
The guys (Tom Keegan, Jesse Newell) analyze what went wrong for KU in its 63-21 loss to Texas Tech. The two also discuss the Jayhawks' chances next week against Kansas State, which also boasts a strong offense.
Justin Thornton said he didn't mind being moved from safety to cornerback Saturday.
He just wished he'd have felt a little more comfortable in his new setting.
"I've just got to get my feet under me," Thornton said after KU's 63-21 loss to Texas Tech at Memorial Stadium. "It's different when you only practice corner for three days and you've got to go out against the No. 1 offense in the country."
With hopes of an improvement from his secondary, KU coach Mark Mangino made quite a few changes to the unit Saturday.
One big switch was moving Thornton from safety to corner and Chris Harris from defensive back to safety.
"We had to do something. We're just really struggling at that position (cornerback)," Mangino said after the game. "Thornton has got quick feet and can play that position. Is that the ideal position for him? No, he's better at the free (safety), but I think our choices are somewhat limited in that area."
Thornton, a junior, hadn't played corner since high school. He had six tackles and two pass break-ups.
"It was a coaches' decision, and I'm just out there to do my best and contribute as much as I can," Thornton said. "I know all the assignments and everything at corner. I feel comfortable with all that. I know what I'm doing out there."
Daymond Patterson, originally a receiver and punt returner, also saw his first action of the year at cornerback. The speedy true freshman recorded one tackle.
"I kind of like him (there). He's young, and we just put him there this week," Mangino said. "I think he'll be OK. I do. I think if he'd been at that position for a few weeks, he would have helped us a little bit more today."
KU safety Darrell Stuckey was impressed with Patterson, especially considering his inexperience at the position.
"I didn't really notice him, so that means he did good," Stuckey said. "There wasn't a time I had to look at him and be like, 'Hey, come on, man.'
"It was a struggle sometimes getting the calls to him. Of course, he doesn't know all the signals or know all the specifics, ins and outs, but I think he did a pretty decent job out there for his first time."
KU linebacker James Holt said the team's plan on defense was to match Texas Tech's speed at the skill positions with quicker players on defense.
The switching didn't seem to do much good. The Red Raiders racked up 418 passing yards and scored on eight of their first nine possessions.
"Any time you put new people out there, confidence is always going to be an issue," Stuckey said. "You've got to give them time to settle. ... It's one of those things where we can't make excuses for switching people. It's one of those things where we've got to be a team regardless of what the adversities are."
Copyright 2018 The Lawrence Journal-World. All rights reserved. This material may not be published, broadcast, rewritten or redistributed. We strive to uphold our values for every story published.