Photo Gallery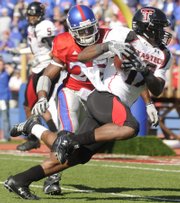 KU vs. Texas Tech
Audio Clips
2008 KU-Texas Tech football
Spodcasters
Spodcasters Postgame: Texas Tech
The guys (Tom Keegan, Jesse Newell) analyze what went wrong for KU in its 63-21 loss to Texas Tech. The two also discuss the Jayhawks' chances next week against Kansas State, which also boasts a strong offense.
Harrell impresses Kansas
While it is unlikely that Kerry Meier will be eligible to participate in this year's Heisman Trophy voting, the Kansas junior receiver knows whom he'd pick if he were.
"He's sure got my Heisman vote," said Meier of Texas Tech quarterback Graham Harrell.
Following Saturday's 386-yard, five-touchdown showing in the Red Raiders' 63-21 victory over host Kansas, Meier wasn't the only one awestruck. Harrell, a 6-foot-3, 205-pound senior, led scoring drives on eight of the Red Raiders' first nine possessions, completing 81 percent of his passes and moving into fourth on the NCAA's career passing yards list.
"You got to give credit where credit is due," said Jayhawks' safety Darrell Stuckey, part of a KU secondary that appeared lost at times against Tech.
But Meier, a former quarterback and current backup to Todd Reesing, had a particularly high respect for Harrell's effort.
Said Meier, "When you get a rhythm, and you're hitting receivers, and you're feeling the ball coming off your hand well, it's a good feeling."
Reesing defends North
Despite growing evidence to the contrary, Reesing on Saturday wasn't convinced the Big 12 South is the conference's only legitimate division.
Asked Following Saturday's game whether he agreed with the idea that the South holds a significant edge over the North in terms of talented teams (so far this year, the South is 10-2 against the North), Reesing defended his division.
"I don't buy that," said Reesing. "Yeah, the South is good this year. No one's going to argue that. They've got a lot of good teams. But just because we got beat real bad doesn't mean we can't play with them. We went down and played with OU last (week). We beat every South team that we played last year. So they're very good. The conference is good from top to bottom. But I'm not going to buy into that."
Herford back at returner
Marcus Herford, who was benched in favor of Jocques Crawford at kick returner against Oklahoma last week, returned to the lineup Saturday.
Herford fielded three kicks for a total of 67 yards, including a team-high 28-yard return early in the second quarter.
Two Jayhawks leave game
Offensive guard Adrian Mayes and defensive tackle Richard Johnson Jr. had to be helped off the field in the first half of Saturday's game with undisclosed injuries.
Meanwhile, defensive tackle Caleb Blakesley, injured last week against Oklahoma, didn't play against Texas Tech. Mangino said last week that Blakesley was "day-to-day".
Copyright 2018 The Lawrence Journal-World. All rights reserved. This material may not be published, broadcast, rewritten or redistributed. We strive to uphold our values for every story published.