Photo Gallery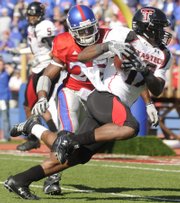 KU vs. Texas Tech
Audio Clips
2008 KU-Texas Tech football
Spodcasters
Spodcasters Postgame: Texas Tech
The guys (Tom Keegan, Jesse Newell) analyze what went wrong for KU in its 63-21 loss to Texas Tech. The two also discuss the Jayhawks' chances next week against Kansas State, which also boasts a strong offense.
Going Deep
Sky Falling in Manhattan?
In Week 9 of Going Deep, Matt Tait and Eric Sorrentino speak with Cole Manbeck of the Kansas State Collegian. Manbeck discusses a variety of topics, including K-State fans turning on the program, coach Ron Prince's recruiting methods, the impact of Josh Freeman against KU, and what K-State must do to have a shot of beating KU in Lawrence. From what it sounds like, Wildcat fans are fed up ... big-time.
-->
It was supposed to be a close game, one that would leave the 50,000-plus spectators turning their heads back and forth as if watching a tennis match. They were supposed to be treated to a pair of great passing offenses. The last team to score wins. That sort of a game.
That game still might happen, but not until next weekend, when Kansas State brings its pass-happy offense and slapped-silly defense to Memorial Stadium for what suddenly seems like a tough game to forecast, the way Texas Tech-Kansas shaped up as a difficult call, at least until the second quarter arrived.
KU's 13-game homefield winning streak was going to end sometime, but did anyone really think it would be by a 63-21 score Saturday? Kansas quarterback Todd Reesing didn't think so. Why would he?
He never had been on the receiving end of anything like that.
"It is tough because you move the ball effectively on the first two drives and get two scores and are right there with them," Reesing said. "We figured we could do that all day. Then we lost momentum, lost focus or whatever it was."
The way the Red Raiders so easily scored on their first two drives, it was evident Reesing would have to work his magic again, keeping the less talented team in it, thriving when falling behind, feeding off the challenge.
Tech scored, Reesing tied it. Tech scored again, and Reesing responded again. By the end of the first quarter, Reesing had completed nine of 10 passes for 98 yards and two touchdowns and the scoreboard read Kansas 14, Texas Tech 14.
Then the rout was on, and most of those holding tickets didn't bother to stick around to watch it through to its brutal ending.
A junior, Reesing suffered through his toughest day as KU's quarterback, throwing for just 154 yards and tossing three interceptions.
Offered the excuse that the heat he faced from the defense could be blamed, at least in part, for his interceptions, Reesing wanted no part of it.
"I'm not sure it was the pressure they were putting on me," said Reesing, 17-4 as a starter at Kansas. "The first one was just a bad throw. Dexton (Fields) was open, and I was throwing on the run and just couldn't get a good ball out there to him. The next one, I was just unsure of what to do with the ball, and the guy made a good play. The last one was the same thing, the guy just made a good play. I've never had that happen to me in a lot of years of football to have back-to-back mistakes like that. Sometimes when things go bad, they can get real bad. You can't really sugar-coat that."
No sugar-coating just how superior the high-end Big 12 South teams are compared to the North, either. Their rosters are bigger, faster and deeper. That never was more evident than in a third quarter in which Kansas ran five offensive plays. The results: interception, Jake Sharp for no gain, interception, incomplete pass, interception.
The last visiting team to leave Memorial Stadium smiling about such a one-sided game was Kansas State, which bullied Kansas, 64-0, Nov. 2, 2002.
That won't be the score Saturday on the same field. Maybe 64-63, but certainly not 64-0.
Copyright 2018 The Lawrence Journal-World. All rights reserved. This material may not be published, broadcast, rewritten or redistributed. We strive to uphold our values for every story published.