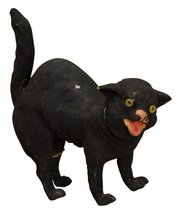 Among the holidays collectors love the most, Halloween ranks second only to Christmas. The older and rarer a Halloween collectible, the higher its price. Composition or cardboard candy containers made in Germany in the 1920s and '30s were sold across the United States. They're collector favorites today. They came in all kinds of shapes, from cats, pumpkins and tomatoes to witches, skeletons and devils. A painted and flocked composition black cat made in Germany in the early 1920s opens at the neck to hold candy. It sold for $403 at an auction last spring. Other Halloween candy containers were made of pressed cardboard, glass, paper, painted plaster or wood.
Q: I have a walnut loveseat with horsehair stuffing. The medallion under one of the stretchers reads, "Shaw Furniture Co., Est. 1780, Cambridge, Mass." Can you tell me anything about this company?
A: Shaw Furniture Co. of Cambridge - just outside of Boston - was in business as early as 1765 and remained open at least into the 1920s. During the 18th century, Shaw made furniture using convict labor from nearby Charleston State Prison.
Q: I have a milk bottle with a green painted label that reads, "Rockwell Kent, Ausable Forks." Isn't Kent an important artist?
A: Rockwell Kent (1882-1971) was a well-known artist who did paintings, pen-and-ink book illustrations, designs for Vernon Kilns dishes, jewelry, fabrics, greeting cards and more. His political activities caused him to be listed as "un-American" by Sen. Joseph McCarthy in the 1950s. Kent lived in New York City and also had a farm in Ausable Forks, N.Y. His dairy used milk bottles like yours in 1927. The dairy closed about 1950. The bottles are interesting because of Kent's fame. One sold at a Glass-Works auction this year fo r $100, about half the price of one of his Vernon Kilns plates.
Q: I found a lovely old vase with "Danesbury Ware" marked on the bottom. What can you tell me about it?
A: Danesbury Ware was made by Joseph Bourne & Son, Ltd., of Denby, Derbyshire, England. Bourne began making salt-glazed pottery at Denby in 1809 and is still in business. At first the company operated under Bourne's name, but it is now known as the Denby Pottery Co. In the 1920s, Denby began making decorative and giftware lines called Danesbury Ware.
¢Terry Kovel answers as many questions as possible through the column. By sending a letter with a question, you give full permission for use in the column or any other Kovel forum. Names and addresses will not be published. Write to Kovels, (Lawrence Journal-World), King Features Syndicate, 300 W. 57th St., New York, NY 10019.
Copyright 2018 The Lawrence Journal-World. All rights reserved. This material may not be published, broadcast, rewritten or redistributed. We strive to uphold our values for every story published.