Photo Gallery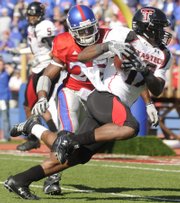 KU vs. Texas Tech
The University Daily Kansan's effort to bring a new kickoff chant to Memorial Stadium succeeded Saturday, but the effort to rid the old obscene chant failed.
The newspaper polled students on which new proposed chant they liked best, and the winner was: "Kayyyyyy (kick) Youuuuuuu!" Some students executed the chant, which triggered a roar of approval from other sections of the stands. Yet, a large portion of the students stayed with the old chant, "Rip his (expletive) head off!," which was ripped off from the Adam Sandler movie "The Waterboy."
Copyright 2018 The Lawrence Journal-World. All rights reserved. This material may not be published, broadcast, rewritten or redistributed. We strive to uphold our values for every story published.