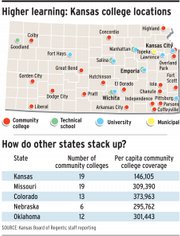 Related document

Kansas Legislator Briefing Book 2008 ( .PDF )
For Deborah Gordon, the higher education market surrounding Wichita State University has become oversaturated.
Within a 50-mile radius, there are the traditional private, four-year schools such as Friends and Newman universities. The area also has the less traditional, working-student oriented schools, such as the University of Phoenix. Added to the mix are the state-supported community colleges in nearby Hutchinson, Cowley and Butler counties.
In all, Gordon, a tenured associate professor in WSU's women studies department, has counted 19 competitors in Wichita and the surrounding area. And, she believes all those schools - many attracting the same kind of students - can take away much-needed resources from students like hers, who have decided to attend four-year public universities.
"It all seems pretty chaotic, unplanned, unregulated. And it does seem like a certain kind of waste," Gordon said of what she calls the sprawling higher education system.
Gordon sees herself as being on the frontline of the issue as less money comes into the university and fewer classes are being offered. For her, it's a basic math problem. The state doesn't have the tax base to support all of its public colleges.
"Our students are going to be drawn out of the state and go elsewhere because we are not willing to make hard political decisions," Gordon said.
The state's system
The state funds six state universities, 19 community colleges, five technical schools or colleges, and one municipal university. Per capita, Kansas has more than doubled the number of community colleges compared with all its neighbors.
Today, the state spends more than $100 million a year on the community college system, less than a fifth of what it spends on its state universities. In 2007, 46,000 students were enrolled in the state's community colleges, which cost $460 million to run.
Sheila Frahm, executive director of the Kansas Association of Community College Trustees, said if the state had to plan its higher education system from scratch, there probably would be fewer schools.
"But we can't start over. We have what we have, and we make the best offering for students with what is available," Frahm said. "Access is important."
Richard Hedges, a member of the Kansas Board of Regents, also points to community colleges' mantra of accessibility, which brings with it a duplication in state programs so students don't have to leave home.
"I think it's about accessibility, taking care of the community, being responsive to the community, and you can't do that halfway across the state," said Hedges, who was president of Fort Scott Community College for 12 years.
The idea of consolidating the state's community colleges isn't something that's on "the front burner" for the board of regents, Hedges said.
In the past year, some major mergers have been made in the higher education system. Four state technical schools consolidated with community colleges or a university. But it's still too early to tell how much money has been saved, Frahm said.
Sharing resources
In 1999, the Kansas legislature passed the Higher Education Coordination Act. Among other changes, the legislation placed oversight of the community college system with the Kansas Board of Regents and made a commitment for the state to increase funding for community colleges, lessening the local tax burden.
This winter a report from the Legislative Division of Post Audit indicated that property tax relief hadn't happened.
The report identified several reasons for the failure:
¢ Budget shortfalls kept the legislature from fully funding its portion of the act.
¢ In the years shortly after the legislation passed, community colleges underestimated enrollment.
¢ Cost of funding the act was higher than anticipated.
¢ Ten community colleges didn't provide all the property tax relief they should have.
The report pointed out that statewide, local property taxes should have been reduced by about $30.3 million, but in reality they dropped by $25.2 million.
The audit found that some colleges had built up large cash reserves, some equaling as much as eight months worth of expenditures. Among them was Johnson County Community College, whose reserve grew from $13.8 million to $80.9 million since the act was passed.
The audit also looked at what some consider the poster child for redundancy in the state's higher education system: the two community colleges in Montgomery County.
Coffeyville Community College and Independence Community College are less than 20 miles apart. The report indicated that the two could work to eliminate duplicate programs, share teaching resources and develop programs to purchase joint utility services and software.
A local decision
No action followed the February audit. And while the report might have helped support the idea of merging technical schools and community colleges earlier this year, it wasn't the impetus for it, Frahm said.
Community colleges are likely to see changes that won't bring more money into the system. Hedges points to new competition with the emergence of for-profit universities throughout the state.
College enrollment is predicted to go up, a trend that follows rough economic times. Frahm said that like universities, community colleges are seeing their infrastructure fall apart.
Ultimately, consolidation of community colleges should be a local issue, Hedges said. Unlike universities, community colleges get a lot of their money from local property taxes. In 2006, 20 percent of community colleges' funding came from the state and 36 percent came from local sources.
"It's not really a decision someone is going to make outside the community," Frahm said.
But Gordon from WSU said if the state wants to build a strong university system, the current numbers aren't going to work.
"Kansas has to decide what it really wants because we can't have it all," she said. "It's not a big enough tax base. And it really underfunds the university."
Copyright 2018 The Lawrence Journal-World. All rights reserved. This material may not be published, broadcast, rewritten or redistributed. We strive to uphold our values for every story published.