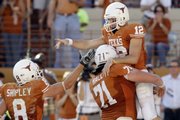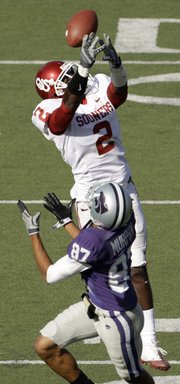 Austin, Texas — Top-ranked Texas was put to its toughest test yet and came through unbeaten.
Looking more vulnerable than any other time this season, the Longhorns needed a big defensive stand in the fourth quarter to overcome a pair of late mistakes by Colt McCoy and hang on for a tough 28-24 victory over No. 7 Oklahoma State.
Their reward is another week at No. 1 and yet another huge Big 12 South division game next weekend at No. 8 Texas Tech.
McCoy passed for 391 yards and two touchdowns, but threw a rare interception and lost a fumble.
No. 4 Oklahoma 58, Kansas State 35
Manhattan - DeMarco Murray racked up 167 total yards and four touchdowns, and Oklahoma overcame a 21-point Kansas State comeback bid.
Sam Bradford added three touchdown passes for OU, which eventually scored 27 straight points on K-State.
The capper was a 68-yard punt return touchdown by freshman Ryan Broyles that gave OU a 55-28 halftime lead. That total matched the school record for points in a half, set in the second half of Oklahoma's 76-0 shutout of the Wildcats in 1942.
No. 16 Missouri 58, Colorado 0
Columbia, Mo. - Chase Daniel matched his school record with five touchdown passes, and Missouri's beleaguered defense handed Colorado its first shutout since 1988.
Jeremy Maclin caught two TD passes, and Chase Coffman set a career record for receptions by a Div. I tight end for Missouri (6-2, 2-2 Big 12). Coffman broke the mark of 217 catches by Ibn Green of Louisville from 1996-99.
Nebraska 32, Baylor 20
Lincoln, Neb. - Nate Swift became Nebraska's all-time leader in career receptions with 147.
Texas A&M; 49, Iowa State 35
Ames, Iowa - Jerrod Johnson threw for 381 yards and a career-high four touchdown passes as Texas A&M; snapped a three-game losing streak.
Johnson was 31-of-39 passing and also ran for a touchdown for the Aggies, who set a season high for points and picked up their first Big 12 win under coach Mike Sherman.
Copyright 2018 The Associated Press. All rights reserved. This material may not be published, broadcast, rewritten or redistributed. We strive to uphold our values for every story published.