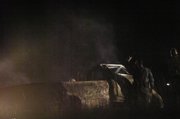 A 59-year-old local man died Saturday night when the car he was driving was struck by a vehicle that had crossed the center line and was driving in the wrong lane of Kansas Highway 10, according to the Kansas Highway Patrol.
Allen L. Eastland, Lawrence, was driving his 1990 Dodge pickup truck west on the South Lawrence Trafficway when he encountered a 2003 Ford SUV driven by 51-year-old Daniel J. Harpool, Lake Lotawana, Mo., who was headed east. The two vehicles collided, causing both vehicles to catch fire and killing the two men.
Both vehicles were fully engulfed in flames when emergency responders arrived on the scene about 7:45 p.m. The South Lawrence Trafficway was immediately closed - and remained off-limits to traffic for several hours.
Stacy Burgen, 38, was driving back to Lawrence from Topeka with her family when they drove up on the accident. Burgen said they were driving east on Clinton Parkway past the roundabout at Lake Pointe Drive when they noticed flames.
"As we got closer we realized it was a vehicle," Burgen said. "My husband stopped at the bottom of the hill and we just saw the truck, then my son saw the other car on what appeared to be on the road."
Burgen said she didn't hear any sirens so she called 911.
"It was scary," she said. "You could tell that nobody had survived. The doors weren't open or anything."
Edna Buttler, technical trooper for KHP, said alcohol may be a factor, but the accident was still under investigation. According to the accident report, it is unknown if Eastland was wearing a seat belt. Harpool is said to have been wearing one.
The accident occurred at mile marker 2 on the SLT, just west of Lawrence.
Lindsay Simms, 19, said she was watching television with a friend in her apartment at Pinnacle Woods when she heard the crash.
"I didn't think anything of it," she said.
When she walked her friend out, Simms said she "smelled something and saw a bunch of cop lights and saw flames."
This is the third accident on K-10 in four days.
On Thursday, 21-year-old James Keeton was killed when the car he was driving collided with another in the same area as Saturday's accident. On Wednesday, 23-year-old Stephanie Rush was taken to Overland Park Regional Medical Center after a two-vehicle accident on K-10, east of Lawrence. Rush has since been released from the hospital.
Copyright 2018 The Lawrence Journal-World. All rights reserved. This material may not be published, broadcast, rewritten or redistributed. We strive to uphold our values for every story published.