Audio Clips
2008 KU-Texas Tech football
-->
Photo Gallery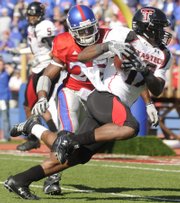 KU vs. Texas Tech
-->
-->
5:20 p.m.
Some notes from Tech's 63-21 victory over KU.
¢ Texas Tech has won 10 conference games in a row dating back to last season. That's a Big 12 record.
¢ Tech is now 10-1 all-time against KU.
¢ Kansas had its 13-game home winning streak snapped. The streak was the fourth-longest home winning streak coming into today.
¢ KU rushed for 162 yards, its highest total all season.
¢ Reesing threw three interceptions for only the second time in his career. He also had three picks last year against Kansas State.
¢ Reesing only had 154 yards passing, breaking a streak of 12 consecutive games with at least 200 yards passing.
¢ Jocques Crawford rushed for 44 yards on 10 carries, his highest rushing output of the season.
¢ James Holt matched a season-high with 13 tackles.
¢ KU lost back-to-back games for the first time since October of 2006.
¢ On his first pass of the game, Graham Harrell moved into fourth place on the NCAA's career passing yards list. He moved past N.C. State's Philip Rivers, who had 13,484 passing yards in his career.
3:53 p.m.
The postgame audio has been posted on the left side of this page. Included in there is Mangino's most telling quote: "Here's the reality of it: We got a good, old-fashioned butt-whooping today, and we know that."
FINAL: Texas Tech wins 63-21.
Texas Tech scored touchdowns on eight of its first nine possessions to take control in a 63-21 victory over Kansas on Saturday at Memorial Stadium.
Graham Harrell finished 34 of 42 for 386 yards and five touchdowns. He also added a rushing touchdown as Tech's offense overpowered KU's defense.
Michael Crabtree added nine catches for 70 yards with two touchdowns, as the Red Raiders improved to 8-0, 4-0 in the Big 12.
Tech led 35-14 at half, and at one point scored 49 straight points.
Todd Reesing had one of his worst games as a Jayhawk, completing 16 of 26 passes for 154 yards with three interceptions. He also threw two TD passes.
Jake Sharp led KU's rushers, carrying the ball 13 times for 80 yards.
KU (5-3, 2-2 Big 12) will play host to Kansas State next week.
FINAL: Texas Tech wins 63-21.
Daymond Patterson fumbles a punt, and Texas Tech recovers. Luckily for KU, Russell Brorsen recovered a Tech fumble on the ensuing possession to keep the Red Raiders under 70 points.
3:52 left in fourth quarter, Texas Tech leads 63-21.
Jocques Crawford tacks on a 1-yard TD run. Texas Tech had scored the previous 49 points.
11:12 left in fourth quarter, Texas Tech leads 63-14.
Backup quarterback Taylor Potts picks up where Harrell left off, taking Tech down the field 45 yards in five plays. He tacks on a 10-yard touchdown pass to Adam James, and, suddenly, the Red Raiders are tantalizingly close to 70 points.
14:55 left in fourth quarter, Texas Tech leads 56-14.
Leach elects for the field goal, and Donnie Carona pushes the 43-yard attempt wide left. Finally, a legitimate stop for KU's defense.
End of third quarter, Texas Tech leads 56-14.
A positive for KU: Jamal Greene and James Holt both pick up sacks for KU's defense. Harrell, before that, had been sacked just once all year. The Red Raiders will face a fourth-and-20 from the KU 26, and knowing coach Mike Leach, I bet they go for it.
2:00 left in third quarter, Texas Tech leads 56-14.
McBath gets his third interception of the game, picking off Reesing deep in KU territory. The Jayhawks' offense won't have much ground to stand on after this game, either.
2:42 left in third quarter, Texas Tech leads 56-14.
Woods scores again from one yard out. Tech has eight TDs in nine possessions, and the one time the Red Raiders didn't score, they only had 31 seconds left to work with in the first half.
4:17 left in third quarter, Texas Tech leads 49-14.
McBath picks off another pass from Reesing. This one might just get uglier.
5:05 left in third quarter, Texas Tech leads 49-14.
One play sums up the whole day for KU's defense. On a third-and-goal from the 16-yard-line, Tech opts for a screen pass to Crabtree. He proceeds to break at least four tackles over the middle, racing into the end zone for the seventh Tech TD. The boos start to stream down from the fans with more than 20 minutes left in this game.
8:23 left in third quarter, Texas Tech leads 42-14.
Reesing throws an interception on KU's first play, as Darcel McBath steps in front of a pass to give the Red Raiders the ball at the KU 43.
8:23 left in third quarter, Texas Tech leads 42-14.
No halftime adjustments here. Tech makes it look easy once again on its first possession of the second half, going 80 yards on 13 plays for the score. Harrell sneaks in from one yard out for the TD, and some fans are starting to make their way to the exits.
HALFTIME STATISTICS
Kansas
Passing
Todd Reesing 13-for-16, 136 yards, 2 TDs
Rushing
Jake Sharp 10 carries, 62 yards
Receiving
Dezmon Briscoe 6 catches, 42 yards, TD
Kerry Meier 5 catches, 65 yards, TD
Texas Tech
Passing
Graham Harrell 22-for-26, 247 yards, 4 TDs
Rushing
Baron Batch 4 carries, 37 yards
Shannon Woods 5 carries, 35 yards, TD
Receiving
Eric Morris 6 catches, 38 yards, 2 TDs
Detron Lewis 4 catches, 31 yards
Michael Crabtree 4 catches, 23 yards, TD
Baron Batch 3 carries, 71 yards
Halftime, Texas Tech leads 35-14.
KU has to punt after a costly chop block penalty. With just 31 seconds left, Tech stays conservative after a 15-yard penalty of its own. The Jayhawks go into the locker room down three touchdowns.
2:15 left in second quarter, Texas Tech leads 35-14.
That didn't take long. In five plays, Tech goes 38 yards, capped by a 10-yard touchdown reception by Eric Morris. This has to be one of the worst first-half defensive performances in KU's history.
4:40 left in second quarter, Texas Tech leads 28-14.
Disaster for the KU offense, as a Brandon Williams' sack forces a Reesing fumble. McKinner Dixon recovers, and KU is on the verge of getting taken out of this game in the first half.
5:55 left in second quarter, Texas Tech leads 28-14.
Slowly but surely, Texas Tech put together its fourth touchdown drive in four possessions, as Shannon Woods ran in the touchdown from three yards out. KU has been blitzing nearly every down, but Harrell has consistently found his open receiver to avoid the sack and pick up positive yardage. At least KU forced three third downs on the drive. I guess that's a start.
11:48 left in second quarter, Texas Tech leads 21-14.
KU abandons the running game and pays a dear price. After two incompletions, Reesing is sacked by McKinner Dixon, and the Jayhawks are forced to punt. Seems strange to not run it at least once, at least to give the defense a little rest. Instead, a fatigued KU defense will go back on the field against a Tech offense it hasn't even been able to slow down.
12:58 left in second quarter, Texas Tech leads 21-14.
The game is starting to resemble that video game you used to play where every receiver was wide open, no matter where you threw it. Harrell continues to move the Tech offense at ease, going 69 yards and ending the drive with a 7-yard TD pass to Eric Morris.
The key play came on a third-and-7 early, as Corrigan Powell was whistled for pass interference. Perhaps a freshman mistake for Powell, who could have waited for the receiver to make the catch and still made a sure tackle to keep him short of the first down. Instead, the penalty resulted in an automatic first down, and the Red Raiders rolled from there.
End of first quarter, game tied 14-14.
Quick chant update: The new "Kayyyyyy Youuuuuuu!" chant has been loud, but quite a few rebels have continued the controversial "Rip his head off" chant. I'm sure this battle will continue the rest of the season.
1:09 left in first quarter, game tied 14-14.
The Jayhawks are answering the Red Raiders blow for blow. Reesing takes KU 72 yards on nine plays, completing the drive with a 10-yard touchdown strike to Dezmon Briscoe.
Perhaps most importantly, KU's offensive line has played well so far. Sharp has had big holes both in the middle and on the right side. Center Ryan Cantrell, right guard Chet Hartley and right tackle Jeff Spikes are having perhaps their best game run blocking, and we've only played 14 minutes.
5:54 left in first quarter, Texas Tech leads 14-7.
KU gambled on a third-down blitz, and Texas Tech's offensive line showed why it's one of the best in the conference. The unit gave Harrell plenty of time, and he found Michael Crabtree over the middle for a four-yard touchdown. Fan-turned-kicker Matt Williams knocked through the extra point for the Red Raiders.
6:08 left in first quarter, game tied 7-7.
It's early, and already we are seeing some crazy switches from Mangino with his defense.
Chris Harris has moved from corner to safety, and Justin Thornton has switched from safety to corner. Also, Daymond Patterson has been playing some at corner.
It hasn't helped so far. Tech carves up KU's defense, getting four 10-plus yard plays to move the ball quickly inside the KU 5.
8:58 left in first quarter, game tied 7-7.
KU sees exactly how much the offense opens up with a strong rushing game. Because of Jake Sharp's early success, a play-action pass works beautifully, and Todd Reesing finds a wide-open Kerry Meier for a 33-yard touchdown. Jacob Branstetter's point-after ties it up.
10:06 left in first quarter, Texas Tech leads 7-0
Does it seem to anyone else like KU's offense always plays better when it gets down? After falling behind, the Jayhawks' offense looks much more in sync, moving the ball into Texas Tech territory at the 44.
12:46 left in first quarter, Texas Tech leads 7-0
Just like that, Texas Tech is up a touchdown. On the second play from scrimmage, Graham Harrell finds Edward Britton deep down the middle for a 55-yard score. This Red Raiders' passing offense has been as good as any in the nation, and they've shown it here already. Meanwhile, KU still is having major issues in the secondary.
13:27 left in first quarter, game tied 0-0
A quick three-and-out for KU's offense to start. As good as the Jayhawks' offense has been, they have had a high number three-and-outs this year.
10:54 a.m.
Just had a flyover after the National Anthem, and we're about ready to go here at Memorial Stadium.
Let's set the scene at Memorial. Still quite a few open spaces, as the early start time has meant quite a few are still straggling in from the parking lots.
Texas Tech has about two sections of fan representation on my extreme right, but other than that, the bowl is a sea of blue.
We have sunny skies here, and it's starting to warm up. Now, it's 51 degrees, with winds out of the west-southwest at 7 miles per hour. It was a bit chilly earlier, but once again, the weather shouldn't play much of a role here today.
10:24 a.m.
Kansas has come out in its red uniforms for this ESPN game. Mark Mangino's teams are 6-0 in red.
8:00 a.m.
Greetings, and welcome to the before dawn version of The Newell Post Live.
Journal-World sports editor Tom Keegan and I will be doing our second "Spodcasters: Live" at 8:30 a.m., this time at The Eleventh and Mississippi (TEAM) tailgate, so make sure to check back online for that to be posted. Those interested in hosting a live podcast at their tailgate can shoot me an e-mail at jnewell@ljworld.com.
This podcast also is where you can listen for the first mystery player in our ticket giveaway. For more details, click on the link.
Let's get right into our weekly true-false, fill-in-the-blank questions. Post your score predictions below.
True or false: Graham Harrell will throw for 400 yards against KU.
True. Consider this: If Graham Harrell throws for 400 yards against KU today, it would only be his fifth-best passing performance of the year (in eight games). I still don't understand why this guy isn't getting more Heisman consideration. Yes, he runs a wide-open, pass-happy offense. But Colt McCoy and Sam Bradford do as well. Harrell will get his chance to shine over the next four weeks against KU, Texas, Oklahoma State and Oklahoma. I predicted 400 passing yards last week for Sam Bradford, and Harrell should make it two weeks in a row. There are no magic fixes for the Jayhawks' struggles on defensive line and in the secondary, and they should be exposed once again by Harrell.
True or false: Dezmon Briscoe and Kerry Meier will both have 100 yards receiving.
True. After his team's loss to Oklahoma, Kansas coach Mark Mangino talked about how, after his team fell behind, he felt the need to play catch-up and throw the ball often. I think the coach knows from the outset of this one, he's going to have to win a shootout to beat the Red Raiders. Tech has had problems in the secondary, and Dezmon Briscoe broke out with the nation's best receiving day (12 catches, 269 yards) last week against Oklahoma. Call it a gut feeling, but I think Kerry Meier also will bounce back to have a big game. The Jayhawks need him healthy and producing to hang with the big guns in the Big 12.
True or false: Kansas will get one sack or more against Texas Tech.
False. Graham Harrell has been sacked a whopping one time this year. That's it. His offensive line has been nearly flawless this, and those guys have some great nicknames like "Fat Albert," "Kool-Aid" and "Superhero Indian" to boot. The Jayhawks did not record a sack in 97 plays last week against OU, and I expect their struggles on the defensive line will continue.
If KU wins, it will be because :
its defense finds a way to force turnovers . Texas Tech's offense is better than Oklahoma's, and that should be a scary thought for KU. The Red Raiders did not punt until the fourth quarter last week, and really, it's hard to stop them from getting 10 yards on three consecutive plays (the aggressive Mike Leach also isn't afraid to go for it on fourth down). Tech also was 10-for-12 on third-down conversions against Texas A&M.; The Red Raiders' weakness, though, has been turnovers and penalties. When Harrell is pressured, he tends to make bad decisions, but then again he's not hurried often. An early turnover would do wonders for the confidence of KU's defense after being picked apart last week.
If Texas Tech wins, it will be because :
it forces KU's offense into three-and-outs. The Jayhawks offense has been good this year, but it has also been streaky. KU tends to either score quickly or give up the ball quickly, and that hasn't been a good formula for the Jayhawks' exhausted defensive players. If the Red Raiders can get a few three-and-outs, it's a good bet that their high-powered offense will be able to convert that into touchdowns on the ensuing possessions. Call it transition offense for Texas Tech. A couple of those would probably be more than KU could overcome.
Prediction: Texas Tech 49, Kansas 41
Here's why the Red Raiders are more dangerous this year than in years past: They can score quickly or they can take their time scoring and control the clock (running back Baron Batch is averaging 7.6 yards per carry). Though their points have been down the last two games, it's only because they've been holding onto the ball longer. Their offense has still been stellar, and unfortunately for Mangino, there's no pixie dust that will magically make his pass defense better in one week. Expect Tech's offense to be too much in this one, and though the Memorial Stadium crowd will help, it won't be enough to keep Harrell from yet another big passing day.
Copyright 2018 The Lawrence Journal-World. All rights reserved. This material may not be published, broadcast, rewritten or redistributed. We strive to uphold our values for every story published.