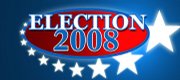 In-depth coverage of the candidates and the issues, all leading up to the Aug. 5 primary and the Nov. 4 general election.
A television campaign ad by Republican Nick Jordan that criticizes Democratic U.S. Rep. Dennis Moore over current economic problems cites a Lawrence Journal-World article that had nothing to do with the political race.
In the ad, a narrator says, "Dennis Moore, his failures put our economy in crisis." The ad then shows the words "economic crisis" and "Journal-World, 10/14/08."
But the story the ad apparently refers to had nothing to do with Moore, Jordan or the 3rd District congressional contest.
The story in the paper that day about the economic crisis featured survivors of the Great Depression and their memories of that period.
Jordan's campaign said it saw nothing wrong. "The quote says that there is an economic crisis, and that is all that we were pointing out," said Dustin Olson, Jordan's campaign manager.
Jordan, a state senator from Shawnee, and Moore, a five-term incumbent, are facing off for the district that includes east Lawrence and Johnson and Wyandotte counties.
Jordan has accused Moore of being partly to blame for the nation's financial problems, saying he failed to provide proper oversight as a member of the House Financial Services Committee. He has also criticized Moore's vote for the $700 billion financial rescue package approved this month.
Moore has said he has fought for tougher financial regulations, and said the rescue plan was necessary to help the nation's economy.
Copyright 2018 The Lawrence Journal-World. All rights reserved. This material may not be published, broadcast, rewritten or redistributed. We strive to uphold our values for every story published.