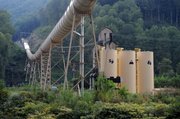 Dorothy, W.Va. — EDITOR'S NOTE - This first story in an occasional AP series about the rich natural resources of Appalachia explores how competing demands for clean energy and for a healthy environment collide on a West Virginia mountaintop.
Tacked to the front porch of a cabin atop Kayford Mountain is a sign. "Larry's Place," it reads. "Almost Heaven."
Almost. In five minutes, Larry Gibson can walk to a crumbling overlook he calls Hell's Gate.
It is a window onto an alien landscape of gray rubble where only machines move. It's a small example of mountaintop removal mining, he explains. Only 900 acres.
Then he turns away from the Patriot Coal Corp. project and gazes left toward the unbroken green tentacles of the Coal River Mountain.
It is a web of jagged ridges, some rising more than 3,300 feet. At its base are communities like Colcord, a few dozen neatly kept homes along Sycamore Creek.
And like so many in southern West Virginia, it is a mountain that could be blown to bits for its coal.
Massey Energy, holder of state permits to blast 6,000 acres, sees the future - and a fortune - in Coal River Mountain. With the spot-market price of steam coal at $133 a ton and likely to rise, the mountain is a resource capable of feeding power plants for 14 years. Massey plans to start work as soon as federal regulators approve.
But Gibson and others propose a future in which the mountain survives.
Mine coal the traditional way, they say. Dig tunnels and leave the top intact for 200 windmills. Generate enough electricity for 150,000 homes. Let the mountain produce energy forever.
Gibson, 62, sees Massey's way of mining as no less than "the genocide of Appalachia," the sacrifice of a people, a culture and the hills that bind them.
"This land right here has done as much for the people as their own mother did," says Gibson, whose own lights and phone are powered by a solar panel while logs feed his potbellied stove.
"Coal's something we used in primitive times...," he says. "We can surely do better."
¢¢¢
More than 300 million years ago, southern West Virginia was a steamy swamp thick with plants that sank as they died, forming layers of peat. Sand and clay landed on top, squeezing, drying and heating it. Over time, every 3 to 7 feet of peat became a foot of coal. And when geologic forces pushed up the Appalachian Mountains, the coal came with them.
By the mid-1700s, coal's potential had been discovered, and within a century, mining was big business. Since 1836, more than 13 billion tons have been dug from West Virginia alone.
Coal is the most reliable and affordable energy source in the United States, with some 52 billion tons of reserves still underground, the West Virginia Coal Association says. That's enough to ensure a productive future for nearly 50,000 people who depend directly and indirectly on the state's mines.
But reserves are getting harder to reach, and companies want cheaper ways to mine multiple seams.
In mountaintop removal, forests are clear-cut. Holes are drilled to blast apart the rock, and massive machines scoop out the exposed coal.
The rock and dirt left behind, the "spoil," is dumped one 240-ton truckload at a time into adjacent valleys, changing the shape of the earth, lowering the mountain and covering streams.
Coal River Mountain Watch, the environmental group pushing the wind farm, says more Americans want clean energy, so it's the perfect time to consider a more sustainable use.
It's also the perfect place: For industrial wind farms, developers seek sites with wind speeds of at least 15.7 mph, the minimum to be labeled Class 4. Coal River Mountain catches winds that range from Class 4 to Class 7, with speeds of 19.7 mph or higher.
But the battle is uphill when nearly everyone stands to get rich from the coal.
The companies that own the land make money leasing it to Virginia-based Massey. Shareholders make money when Massey's stock price rises. Chief Executive Don Blankenship makes money when shareholders are happy.
And state government, which gets more than $300 million a year in severance taxes, needs the money.
"So do hookers and so do pimps," grumbles 53-year-old Lorelei Scarbro, whose 10 acres on Rock Creek are threatened by Massey's plan. "That doesn't make it OK. ... It's not OK for us to be sacrificed so the rest of the world can have more energy."
Scarbro is part of an Internet campaign that's drawing support from the Sierra Club, the Rainforest Action Network and the National Resources Defense Council, among others.
"The fact is that we have a small band of environmental extremists who just want to shut down mining in West Virginia," says Chris Hamilton, senior vice president of the Coal Association.
At Coal River Mountain, he says, "It's hard to tell if this is a proposal aimed at slowing down mining or restricting mining in that area, or if it's a bona fide proposal to build windmills."
West Virginians need not pit one form of energy against another, he argues. The nation needs them all.
And in the southern coalfields, there are mainly three kinds of jobs: mining, logging and minimum-wage.
Thinking about global warming is a luxury, the notion of windmills laughable.
"I never heard that before," says 21-year-old miner John Sprouse, chuckling.
¢¢¢
On Coal River Mountain, the question is really about how - not whether - to mine.
"Coal hasn't hurt us. Coal's helped us," says Joyce Gunnoe, keeper of a general store in Dry Creek.
She sees the wind farm activists as meddling outsiders and says the locals who join them are mainly retired or disabled, no longer dependent on the mines for income.
Yes, she hears the blasting. "But the way I see it, those are guys trying to make a living."
A study by the U.S. Environmental Protection Agency estimated 400,000 acres of forest were wiped out and nearly 724 miles of streams buried between 1985 and 2001 alone. North Carolina-based Appalachian Voices estimates 470 mountains have been destroyed.
In an e-mail to The Associated Press on Thursday, CEO Don Blankenship insisted Massey mines responsibly, with safety and the environment in mind. Cost, he said, is not the only consideration.
"Most coal mined by surface mining cannot be deep mined," he wrote. "Energy resources would be lost if not surface mined."
To retired union miner Lloyd Brown of Whitesville, it's this simple: "There's a right way and a wrong way to mine coal. Massey's come in here, and he (Blankenship) has raped the southern part of West Virginia just to get the coal."
In theory, coal operators restore the land to its approximate original contour and replant it for future use. Blankenship even suggests "windmills are more practical on mountains after mining than before" because of the access and infrastructure that are created.
But critics say mined ground is an unstable pile of rubble, too shaky and too short - by several hundred feet in the Coal River Mountain scenario - to catch the best winds.
And a mountain mined never looks the same.
"I'm not well educated. I don't have a lot of fancy words," says Sam McGee, a former miner who lives on Rock Creek. "All I can do is speak from the heart and say they're destroying us."
Copyright 2018 The Associated Press. All rights reserved. This material may not be published, broadcast, rewritten or redistributed. We strive to uphold our values for every story published.