Past Event
When: Friday, October 24, 2008, 8 p.m.
Where: Lawrence Arts Center, 940 New Hampshire St., Lawrence
Cost: $6
-->
-->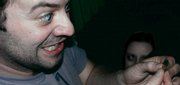 Related document

EMU Theatre over the years ( .PDF )
EMU Theatre's latest show is accompanied by a waiver.
Patrons are asked to sign a form notifying that a performance of "Horrorshow II" exposes them to "dangers and risks that include (but are not limited to) serious or dreadful spookiness, emotional grievance, damage to pre-conceived notions of terror and/or death from fright."
In order to watch the show, they must "waive and release" anyone affiliated with EMU Theatre.
"We wanted to create an atmosphere," says Jeff Sorrels, executive producer of "Horrorshow II."
"We were talking about the old '50s horror things: 'The Shocker,' 'The Tingler.' One of the things we were laughing at was they used to make people sign waivers in case you died of fright."
Ironically, the assumption of risk is part of the quality that has made EMU Theatre so successful.
"Horrorshow II: An Evening of Hauntings Most Grim and Unexpected" is being hailed as EMU's 10-year anniversary show. In that span - which began with "4 Short Plays" in August of 1998 - the Lawrence troupe has delivered cutting-edge, skillfully mounted productions that run the gamut of styles.
The one unifying element remains the company's ability to adopt original material.
"Our main focus is to get local artists and their work on stage," says Sorrels, a five-year veteran of EMU.
"There are a lot of people interested in theater who don't necessarily have an outlet in this town. They don't go to KU, so they can't be part of their productions. Or they can act in or be part of a production at the Lawrence Community Theatre, but if they're a playwright, that's not a place that does many original plays. EMU started because these people had scripts but nobody would put them on."
Fast turnaround
Andy Stowers and Nate Cadman are the parties responsible for forming EMU Theatre.
"It was kind of a fluke," says Stowers, who is still an active participant and has a role in "Horrorshow II."
"Nate and I were talking to our boss at the Java Break, and he said he always wanted to have theater there. We were like, 'Well, we do theater.'"
Rather than attempt "Death of a Salesman" or "The Iceman Cometh," they took a different route.
"We decided there were a lot of artistic, creative people in town, so let's avoid paying royalty fees by producing stuff that's written in town. That first event was super successful. We ended up selling out the place."
They chose EMU - initially E.M.U. - as an acronym that could stand for whatever people wanted it to stand for.
"We didn't want to get locked into a pretentious name, or a specific time or locale or person. Every show we try and slip in a line with the acronym somewhere," Sorrels says.
Organizers say they draw from a core of about 20 to 25 actors. They estimate that over the decade EMU has done somewhere between 75 and 85 percent original productions.
"One of the things that sets us apart is that we're an all-volunteer company. No one gets paid for working for EMU," Stowers explains.
"It's also different because a majority of our work is unpublished and unproduced. We encourage writers to submit work to us. I've heard some of our participants say that EMU has the fastest turnaround time from page to stage."
A decade of highlights
Throughout the years, EMU has been responsible for an array of quirky, innovative productions.
Dan Born, a former EMU member, recalls writing a "very good and eclectic show" called "Slipping the Leash." The 2002 effort sprung as a collaborative exercise in which five writers each penned a separate piece containing a mention of the same two random things: Morse code and automation.
"I learned a lot from the experience about trusting other people with your blind alleys and inchoate thoughts - which is good knowledge for a playwright to have, given the necessary rewrites," Born says.
Stowers recalls that when an area alternative weekly paper mistakenly printed EMU was 24 years old - when in reality it was referring to a 24th production - the company decided to throw a 25th anniversary show.
"We resurrected some of our favorites for the 'Sham-iversary,'" Stowers says. "Mine was 'The Terrible Tale of Yourton,' which is very funny, timely, political. It's got a social message, and is a lot of fun as the action unfolds."
Both Sorrels and Born cite "Futz!" as one of the standout productions. Kansas University's Ron Willis directed the 1960s play about a man who has carnal relations with his pig. EMU took it to the first Fringe Festival in Kansas City.
"'Futz!' is one of those unclassifiable shows," Born says. "On a deeper level it's about how society enforces sexual normality. Ron put together a memorable production, with a large cast ranging in experience from nearly professional to first time onstage. The KC Fringe Festival, in their wisdom, gave us the venue of the Screenland Theatre, performing right in front of the screen - which is framed by Walt Disney characters in a bit of nouveau-retro-ironic hipness. Among these characters is, of course, Porky Pig."
Difficult to top
The three alumni also agree that last year's "Horrorshow" was one of the all-time EMU highlights. As such, expectations are raised for the follow-up.
Sorrels says, "We decided to go with a more atmospheric type of horror rather than something as visceral as red-dyed Karo syrup or monster masks."
At the previous performance, patrons heard the house manager reveal she had been bitten by a homeless person on the way to the theater. Once the show started, the manager dug her teeth into an audience member (who was a plant), and that person had to be removed from the theater. The "disease" then spread throughout the group until most of the cast was reduced to zombies. This forced the uninfected staff to deal with the mounting chaos.
"Finally the zombies broke loose, and there was a final showdown in the theater," Stowers relates. "So the audience was rushed out while others came in and mowed down zombies with a chain saw."
Waiver worthy, indeed.
Copyright 2018 The Lawrence Journal-World. All rights reserved. This material may not be published, broadcast, rewritten or redistributed. We strive to uphold our values for every story published.