High School Spodcasters
Spodcasters Postgame: Free State 21, LHS 13
The guys (Matt Tait, Jesse Newell) put the final touches on this year's City Showdown with postgame analysis, plays of the game and a look ahead to the final week of district play for the Lawrence High and Free State football teams.
Photo Gallery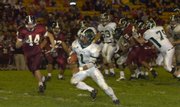 LHS vs. Free State football
Audio Clips
2008 LHS-Free State football
-->
FINAL: Free State wins 21-13. Torneden puts the nail in the coffin with a great run. On a fourth-and-five with less than a minute to go, Torneden was tripped on a quarterback sneak, but somehow he managed to maintain his balance, stumbling forward to the LHS 15. Officials brought the chains on the field, and Torneden picked up the first down by the nose of the football. After a kneeldown, Free State ran out the clock for its third straight victory in the series.
2:18 left in fourth quarter, Free State leads 21-13.
Hunter is coming through right when the Firebirds need him to. He has runs of 21, 7, 7, 12 and 3 on this drive, helping the Firebirds to four consecutive first downs. Most importantly for Free State, LHS has just one timeout left and time is running out.
5:26 left in fourth quarter, Free State leads 21-13.
Sims plunged in from one yard for the touchdown on a fourth-and-goal to keep the Lions' hopes alive. It came after a crazy turn of events. On second down, Sims was ruled just short of the end zone, but one official raised his arms like he was signaling a touchdown (even though he wasn't). The LHS band started playing its TD celebration song, and while it was going, an LHS offensive lineman jumped early for a five-yard penalty. Sims followed with a five-yard run, then added the one-yard score. Scott's extra point was wide right, keeping the deficit at eight points.
7:23 left in fourth quarter, Free State leads 21-7.
Following a Free State punt, the LHS offense finally breaks through with a big play. Clifton Sims bursts through the middle for a 62-yard gain before getting caught from behind by Keene Niemack at the FSHS 13.
End of third quarter, Free State leads 21-7.
The Lions' running game once again can't get things going, managing just six yards on three plays before a punt. Hunter follows with a 20-yard run, but after a pair of losses, the Firebirds face a fourth-and-14 from the LHS 31.
7:14 left in third quarter, Free State leads 21-7.
So much for Chucky Hunter being hurt. The Free State running back returned to the offense in a big way to start the second half, breaking down the left sideline for a 26-yard gain. He later added an important seven-yard gain on a fourth-and-1, and picked up another conversion on a fourth-and-4 with a five-yard gain on a screen pass. Torneden scored his third TD on a 3-yard run, and Ballard-Hansen's PAT made it 21-7.
HALFTIME STATISTICS
Lawrence
Rushing
Team: 29 carries, 97 yards (3.3 yards per carry)
Passing
Pinnick 1-for-2, 5 yards, TD
Free State
Rushing
Chucky Hunter 8 carries, 103 yards
Camren Torneden 3 carries, 31 yards, 2 TDs
Kirk Resseguie 2 carries, 2 yards
Team: 13 carries, 136 yards (10.5 yards per carry)
Passing
Torneden 1-for-3, 36 yards
Also of note: Hunter sat out some of the second quarter with an apparent ankle injury. Obviously a big loss for Free State, as Hunter was nearly unstoppable when he was in there in the first quarter.
Halftime, Free State leads 14-7.
A great individual effort by Pinnick gives LHS its first touchdown. On a fourth-and-1 at the Free State 5, Pinnick bought time by scrambling out of the pocket, then found Aaron Rea for a 5-yard touchdown reception with 4 seconds left in the half. Spencer Scott's point-after trimmed Free State's lead to 14-7.
24.4 seconds left in second quarter, Free State leads 14-0.
After six running plays, LHS has moved the ball to the Free State 6.
2:40 left in second quarter, Free State leads 14-0.
Following an LHS punt, Free State's Aundre Allen catches a 69-yard touchdown pass, but it is called back because of offensive pass interference. A Free State punt give LHS the ball at the Free State 40.
6:39 left in second quarter, Free State leads 14-0.
Free State's second touchdown drive looks nearly identical to its first. Hunter gets the tough yards, breaking off runs of 30, 6, 6 and 10. Torneden later gets the glory, scampering in from 20 yards for the Firebird touchdown. Torneden runs in the two-point conversion off the option, and right now, Free State is beating LHS at its own game.
8:00 left in second quarter, Free State leads 6-0.
Free State comes up with a big stop on a fourth-and-2, as Clint Pinnick's pass sails too high for his intended receiver Chebon Dawes.
End of first quarter, Free State leads 6-0.
The Free State defense forces a third straight punt. LHS and running back Jake Green have had a hard time finding holes, and the Lions have been hurt by three first-quarter procedure penalties. The LHS defense comes up with it second big play of the game, though, as Murphy Ray Jr. intercepts a Torneden pass on the first play of the Firebird drive. LHS has good field position at the Free State 47.
5:21 left in first quarter, Free State leads 6-0.
Following a second LHS three-and-out, Hunter made up for his fumble quickly. He darted up the middle for a 13-yard run, then later bounced off numerous tacklers on a 36-yard screen pass. FSHS quarterback Camren Torneden finished the drive with an 8-yard touchdown run to put the Firebirds on the board, but Gabe Ballard-Hansen's point-after was partially blocked and came up short.
9:00 left in first quarter, game tied 0-0.
Following a punt by LHS, Free State's Chucky Hunter rattled off a 29-yard before fumbling. The Lions' Clint Pinnick recovered, and LHS will take over on its second possession from its own 23.
7:30 p.m.
The senior introductions for Lawrence High have ended, and we're getting ready for football on a chilly night here at Haskell Stadium. This is Jesse Newell, online editor for KUsports.com. We'll have some analysis later from Journal-World high school editor Matt Tait, along with live game updates from me throughout the game. Make sure to keep checking back for your LHS-Free State game coverage.
6:30 p.m.
The countdown has entered its final hour.
At 7:30 p.m., the Lawrence High and Free State High football teams will kick off this season's City Showdown, and they'll be playing for so much more than a year's worth of bragging rights.
For starters, tonight's winner will have a leg up in the race for the district title. The district title is important because it means (a) that team will host a first-round playoff game and (b) that team will host a runner up from a different district.
To pinpoint one key for tonight's game would be nearly impossible. Both teams have to do several things right in order to come out victorious. But here's a small taste of the keys to the game for both squads:
Lawrence High (3-4)
1. Run the football. - It's no secret that with weather conditions the way they are (45 degrees with a light drizzle) the Lions will look to keep the ball on the ground, therein grinding the clock and moving the ball methodically down the field. Senior running backs Clifton Sims and Jake Green each have shown the ability to carry the load by themselves this season, but tonight, LHS coach Dirk Wedd will likely feature a heavy dose of both.
2. Contain Free State's Speed. - LHS is at a serious disadvantage in the speed department in this one, and because of that the Lions will have to be disciplined in their assignments, both offensively and defensively. Taking the wrong angle or lining up out of position could be costly against Free State's potent attack.
3. Connect on trick plays. - There's little doubt that the Lions will try their luck at a trick play or two in tonight's game. It's imperative that they succeed when they do. It doesn't necessarily have to go for a touchdown, but everyone involved must focus more than they ever have in order to execute the play well enough to work. There are few things as deflating as a trick play that's open but doesn't connect.
Free State High (4-3)
1. Keep your composure. - On paper, the Firebirds have a deeper, more talented team. It's important that they let that depth and talent work for them no matter how long it takes. If the game's tight at halftime or into the third quarter, pressing will only make things harder on the Firebirds. Relaxing and allowing the game to come to them will increase the Firebirds' chances for victory.
2. Defensive balance. - Because the Firebirds (as well as the rest of us) know that the Lions want to run the ball all night, it might be easy for them to over-emphasize stacking the line of scrimmage against the run. Not a good idea. The Firebirds need to be sound in their run defense, but they also need to be aware in their pass defense, because if they're not, LHS seniors Clint Pinnick and Aaron Rea could make it interesting.
3. Protect the quarterback. - Although he played in last year's game, Free State QB Camren Torneden was more of a role player in that one. Tonight, he'll be the star. As Torneden goes, so go the Firebirds. That includes standout running back Chucky Hunter as well as receivers Preston Randolph and Aundre Allen. As long as Torneden sticks to the gameplan and spreads the wealth, the Firebirds should be fine. Allowing LHS to get pressure in his face and force him into mistakes he might not otherwise make could make things difficult.
-Matt Tait
Check with www.ljworld.com throughout tonight's game for a live blog of the action from Haskell Stadium. And be sure to log on to the Web site after the game for reaction, photo galleries and a postgame spodcast.
Copyright 2018 The Lawrence Journal-World. All rights reserved. This material may not be published, broadcast, rewritten or redistributed. We strive to uphold our values for every story published.