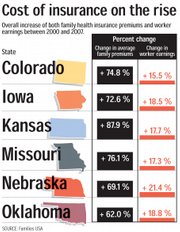 Health care costs have risen almost five times faster than wages across the country during the new millennium.
And Kansas is no exception, according to a new report.
Annual family health insurance premiums rose 87.9 percent from 2000 to 2007. Meanwhile, median earnings increased only 17.7 percent.
"Costs are taking a bigger and bigger bite out of family budgets," said Ron Pollack, executive director of Families USA, a national advocacy organization for consumers of health care.
Families USA did the first state-by-state analysis of growing health care premiums compared with earnings and released its findings Thursday. The report is based on information provided by the U.S. Census Bureau, the Department of Labor and the Department of Health and Human Services.
More than half of all bankruptcies are now due, at least in part, to problems associated with medical debt. Pollack also said premiums are providing fewer benefits despite higher deductibles and co-payments.
"People are paying more and more and receiving less and less," he said. "Workers are experiencing a triple whammy."
That whammy is:
¢ Premium costs are skyrocketing. The national average was 78.3 percent.
¢ The portion of the premiums paid by workers, 90.3 percent, is increasing even faster than the portion paid by employers, 74.6 percent.
¢ Because the employer's portion is rising substantially, they have less ability to pay higher wages.
It's a vicious circle that a small downtown Lawrence business owner knows well.
Businesses struggling
For the past 50 years, Travellers has provided health care for its full-time employees.
"There's no question health care costs have gone up in huge, huge, huge portions over the years," said Walt Houk, president and part owner.
"It's extremely difficult to provide that," he said. "It cuts into other things that you do. You couple insurance premiums with all of the tax increases that we get hit with and all of the utility upcharges. All that stuff takes away what you can do otherwise for your employees. So, it probably cuts into the amount of wage increases that they can get."
Not only are skyrocketing health care costs striking his pocketbook, but his clients' as well. A majority of his clients are 60 and older, and they have to pay for the rising costs of housing, heating and food on top of health care. So, trips and vacations tend to be the first to go.
Despite a lull in business, Houk said there is no plan to cut health care insurance for employees.
That hasn't been the case elsewhere.
No health coverage
Health Care Access, a Lawrence agency that provides health care for low-income Douglas County residents who have no insurance, is on track for a 30 percent increase in the number of appointments this year compared with last year. Through September, 1,450 patients have been seen at a total of 3,150 appointments.
"We are hearing stories of people losing their coverage or they can't afford their coverage or they are losing their jobs," said Sally Zogry, development assistant.
She said about 80 percent of their clients are employed.
"Either they are in a situation where they are not making enough to afford the benefits their employer does offer, so they might be in a more entry-level position, or their employer does not offer them benefits."
Zogry said the clinic has a four- to five-week wait for regular appointments. She also said about 750 people are enrolled in its Medication Assistance Program that helps pay for prescription drugs.
"A lot of our patients can't even afford $4," she said.
Growing concern
State leaders are familiar with the health care statistics.
Gov. Kathleen Sebelius said the USA Families report just confirmed the worries that she hears from Kansans every day.
"Every Kansan who has health insurance is worried about rising costs in the future, and those without coverage are being priced further out of the market," she said in an e-mail.
This week, she called for the 2009 Legislature to step up and make health care reform a top priority.
If they don't, Pollack, of the national advocacy group, predicts the number of uninsured and underinsured people will continue to climb. There are 340,000 Kansans, including 58,000 children, who do not have insurance. It's the third year in a row that the number of uninsured Kansans increased.
"As health care becomes less and less affordable, people throughout the country face difficult choices trying to provide health coverage for themselves and their families," Pollack said. "A bad situation is clearly growing worse."
Copyright 2018 The Lawrence Journal-World. All rights reserved. This material may not be published, broadcast, rewritten or redistributed. We strive to uphold our values for every story published.