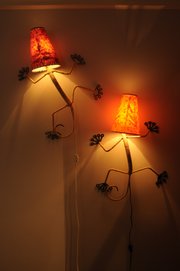 On the street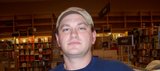 I think so, just because it's all stuff we've collected on our travels and pictures of people who are close to us.
We were out on a family bike ride recently, and like most outings of that nature, I was peeking around with at least one eye trying to spy the next great garden or home for my column.
When lo and behold, we rolled past a wash of color and happiness outwardly tattooed on a house in the Pinckney neighborhood. Tucked behind some old-growth trees is the most gregarious driveway and garage I've ever seen. Draped and strewn haphazardly above the driveway were a litany of peace flags and prayer flags. The garage is spray-painted by a graffiti artist as the onlooker was told to "inspire," and I decided right then and there that I simply must leave a note to introduce myself and see if the homeowner would like to give me a tour.
Meet homeowner Richard Renner, a bon vivant of the good life. Renner is an entertainer. I know, are you scratching your head like I was, thinking - "A what? Is that really a job?"
Indeed it is. Renner performs all over the country for fairs and festivals with his stage shows and silent clown act, inspired in part by Buster Keaton. He incorporates items that he has fashioned such as the "Recycle Cycle" and a remote-controlled robot for his roving performances, and don't forget daredevilish acts like stilt walking.
At 51 years old, Renner has been performing his vaudeville-inspired show since he graduated with a degree in theater from KU.
"I'm making a soapbox car right now that I'm entering in the Red Bull Soapbox derby in Denver (which is this weekend)," he says. "It is shaped like a hot dog in a bun, and it's called the Wiener Cycle. I mean really, who doesn't want to ride in a hotdog at 45 miles an hour? The Recycle Cycle is made of all recycled items. The idea is that the car has everything a car should have, but they are just made of other things."
In order to completely appreciate Renner's space, it is helpful to have a grasp on his history.
As we peruse his home, there are framed posters of his entertaining act and photographs displaying Renner in his outrageous costumes, many times posing next to some kind of invention or another. His space has evolved into his true personality only after enduring a divorce.
"Part of being single again, I found myself wanting to get in touch with my happy place, so I've made my happy place," he says. "This is the first time in my life my house is mine to do what I want with it."
Renner has sculptures in the garden made of blue bottles, bicycles and doors painted in bright primary colors. Spoons serve up the clanking noise of a wind chime, and shoes have been transformed into planters. People are sitting up and taking notice, too.
"People have come to the door and they'll say how great the place looks," Renner says. "I was mowing the lawn and people were stopping and taking pictures. I just love making things that feel good to me, and if someone else appreciates it, great."
Renner has certainly surrounded himself with colors, items and sayings that are meant to illicit a place of joy. Sayings include the following gems: "Blessed are they who can laugh at themselves, for they shall never cease to be amused." Or "life is supposed to be fun" and "dream big."
"People read hope, they read joy, and they feel it for even just a moment," Renner says.
His own saying is: "You are never going to get what you want, you're going to get something better."
When Renner's life was transformed by divorce, he decided to bring in a feng shui expert to aid him with his new outlook on his haven.
"I originally had the house feng shui-ed and she gave me a lot of great ideas, like the benefactor area - which for me is symbols of the universe," he says. "This is the relationship room, so everything is done in twos: two lamps, two candles and so on. I made as many areas in this house to sit and read as possible, peaceful places. I hand-painted the walls. I am painting over most of the walls, as the entire house was gray. I'm energizing it with color and getting rid of all that gray."
He has not shied away from color. His dining room chairs are all different hues and styles. He painted the chandelier above. His bathroom/game room is equipped with a Japanese pinball game called Pachinko and a slew of unique and mesmerizing items to take in. The stairwell wall is even emblazoned with a Buddhist blessing to aid Renner in finding and residing in his happy place: "May all living beings be filled with loving kindness, may we be well, may we be peaceful and at ease, may we be happy."
Renner's advice to those who find themselves in an unfamiliar home by themselves and in a place of turmoil and extreme change: Embrace it.
"Look and see what excites you," he says. "Don't worry if it seems undoable. Throw away the Pottery Barn catalogs, move to a city like Lawrence and let your imagination run wild. Lawrence is great. There is a lot of freedom of expression. You can paint your garage door and not have the home association on you, but actually get noticed and asked to be in the newspaper."
Copyright 2018 The Lawrence Journal-World. All rights reserved. This material may not be published, broadcast, rewritten or redistributed. We strive to uphold our values for every story published.