Photo Gallery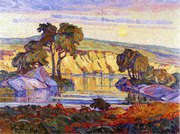 8 Wonders of Kansas Art
From the west to the weird, the winners of the 8 Wonders of Kansas Art were announced Thursday by the Kansas Sampler Foundation.
Here are the winners in alphabetical order:
¢ Birger Sandzen, Birger Sandzen Gallery, Lindsborg.
¢ Blue Sky Sculpture, Newton.
¢ Buffalo Bill Bronze Sculpture, Oakley.
¢ Garden of Eden/Lucas, Grassroots Arts Mecca.
¢ Gordon Parks, Fort Scott.
¢ John Steuart Curry Murals, State Capitol, Topeka.
¢ Keeper of the Plains, Wichita.
¢ St. Mary's Catholic Church, St. Benedict.
The top wonders were chosen in a vote of more than 9,000 people from 46 states and nine foreign countries.
Kansas Sampler Foundation director Marci Penner said, "As shown by the top 8 list, our state has incredible diversity in the art department - from the historic Curry murals to some of the quirkiest art in the world. The art of Kansas is well worth exploring." The contest was designed to educate the public and encourage travel.
To learn more about the 8 Wonders of Kansas Art and the previous contests, go to www.8wonders.org.
Copyright 2018 The Lawrence Journal-World. All rights reserved. This material may not be published, broadcast, rewritten or redistributed. We strive to uphold our values for every story published.