Photo Gallery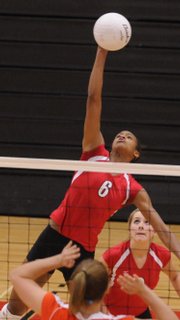 LHS volleyball vs. Olathe East
In their last match of the night, at their last home quad of the season, the Lawrence High Lions scored 31 points in a two-set loss to Emporia.
The memories of the match will last at least that many years.
With her regular lineup on the bench, LHS coach Stephanie Magnuson sent an all-senior lineup to the floor for the Lions' final home match of the season.
Her seniors responded. Tayler Tolefree, Caitlin Fisher, Morgan Harris, Grace Hildenbrand, Maddy Orth and Hillary Wehmeyer started on the court. Libero Katlyn Green jumped in immediately. And together, for 62 straight points over the span of two sets, nobody but seniors played for the Lions.
"It was really cool," Harris said. "We're always going to remember the bonds we made and not what our record was. It was a great feeling because I'm never going to play with these girls in this gym again."
Using their experience and maturity the senior Lions - playing together as a unit for the first time all season - played with poise, passion and pride. Even the points they lost were hard-fought rallies that could have gone either way.
A big reason for their showing was chemistry, Tolefree said.
"It just flowed," she said. "To finally get to play with the other seniors was really nice because they've worked their butts off in practice every day, too."
It showed.
Rather than be intimidated by the situation, the Lions were strong. Harris was solid with her passing and her swings. Hildenbrand was ferocious at the net. Fisher delivered a couple of blocks, tips and kills for points. After each play by any of the seniors, smiles lit up their faces, as well as the faces of their teammates, coaching staff and fans in the stands.
The grins were backed by such feel-good emotion that no one seemed to remember the first two matches, both two-set losses to Olathe East (25-17, 25-20) and Blue Valley North (25-15, 25-12).
In the finale against Emporia, the Lions fell behind 11-4 but stormed back midway through the first set, closing the gap to as few as three points - 22-19 - before losing, 25-20.
"We weren't afraid to play and we didn't panic," Tolefree said. "We were just comfortable out there. Things weren't going our way in the first place and we just played like we had nothing to lose."
The second set was little more than a formality. Despite jumping out to leads of 1-0 and 2-1, the Lions were not in the set for very long. Emporia built a 10-3 lead and never looked back in a 25-11 victory.
But again, the score hardly mattered. With her team trailing, 12-5, Magnuson made her first substitution. Sophomore Lillian Schoenwise went in for Fisher. Hugs, applause and smiles. After the very next point, junior Jasmyn Turner subbed in for Hildenbrand. More hugs, applause and smiles.
One by one, the seniors left the floor, each departing in her own special way. Some laughed, some cried, others beamed with pride.
"That was really cool," said Harris, who was replaced by sophomore Mary Coldsnow with the Lions trailing 20-9. "It wasn't the regular feeling of being subbed out. It was like, 'This is kind of my time.'"
The entire night belonged to the LHS seniors, all seven of them plus team managers Tyler Click and Spencer Hutchens.
The losses dropped LHS to 9-26 on the season. The Lions will wrap up their regular season Thursday at Free State High and will return to FSHS for sub-state on Saturday.
Copyright 2018 The Lawrence Journal-World. All rights reserved. This material may not be published, broadcast, rewritten or redistributed. We strive to uphold our values for every story published.