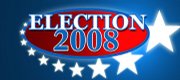 In-depth coverage of the candidates and the issues, all leading up to the Aug. 5 primary and the Nov. 4 general election.
There's a health care crisis.
During a two-and-a-half-hour community forum Tuesday night, statistics were flashed again and again before the 50 people in attendance at Lawrence Memorial Hospital:
¢ There are 46 million people in the United States without health insurance. There are 300,000 Kansans who are uninsured, and 198 of them will die each year because of it.
¢ One out of every $3 in health care costs goes to administrative costs.
¢ The U.S. spends more than any industrialized country on health care. Yet, its infant mortality rates are the highest and its life expectancy rates are the lowest.
"We are facing a tsunami in health care," said Dr. Ira Stamm, a member of the Kansas Health Policy Authority and longtime psychologist.
He said America needs to decide whether it wants incremental or transformational change. He described health care insurance as a 1947 car. Do we keep replacing the parts or do we buy a new one?
Stamm and the other panel members agreed that the health care system needs an overhaul.
The panel included: Burdett Loomis, a political analyst from Kansas University; Dr. David Goering, a hospitalist at LMH; Dr. Joshua Freeman, of Kansas University Medical Center's department of family medicine; and U.S. Senate candidate Jim Slattery. State Sen. Marci Francisco represented U.S. Rep. Dennis Moore and Katie McColloum was there on behalf of U.S. Rep. Nancy Boyda.
Republican candidates Pat Roberts, Lynn Jenkins and Nick Jordan did not attend or send representatives.
Steps to take
There was much debate on how to fix the crisis.
Loomis said neither of the presidential candidates' health care plans would pass Congress. Sen. Barack Obama is proposing a national health insurance program for individuals who do not have employer-provided coverage. Sen. John McCain supports a change in the tax code to offer choices beyond employee-based health insurance.
"I am profoundly pessimistic," Loomis said of any reform.
Meanwhile, Goering presented a third option. He strongly supports the U.S. National Health Insurance Act, a bill submitted to the House that would create a publicly financed, privately delivered health care program that uses the Medicare program, but expands and improves it and makes it available to all Americans.
Action urged
After hearing about the plans among the politicians and health care professionals, Ed Outlaw, a hospice chaplain from Olathe, had just one question for them.
"I have heard a lot about plans," he said. "Just how long is the debate going to go on?"
Francisco said the National Health Insurance Act, also known as HR 676 or the Conyers bill, has the best chance of surviving. It has garnered support from several major health care professional organizations.
Slattery said he has proposed some health care changes that can be made quickly - for example, expanding Medicare coverage for those 55 and older and allowing Medicare to buy drugs in bulk from pharmaceuticals.
He said neither of the presidential health care plans are "realistic." Slattery supports a universal insurance program that mandates everyone pay something. He said we mandate that people pay for automobile insurance. Why not health insurance?
But mandating health care coverage drew concerns from a few Kansas University students who weren't sure they would be able to afford the costs, especially with the current economic crisis.
KU student Jamie Hamilton will turn 23 in May and will no longer be on her parents' health insurance policy. She is worried that she won't be able to afford insurance or meet deductible requirements. "What are you going to do to help me?" she asked the panel.
Hamilton, who plans to work in health policy after graduation, said about 45 percent of those uninsured are between the ages of 19 and 32.
Slattery said his No. 1 priority is expanding health care coverage for young adults: "You can be rich and 66 in this country and we pay for your health care. If you are poor and 16, you are on your own. This system just doesn't make sense."
Copyright 2018 The Lawrence Journal-World. All rights reserved. This material may not be published, broadcast, rewritten or redistributed. We strive to uphold our values for every story published.