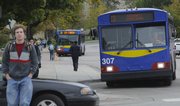 City commissioners are fine with a new agreement that could allow the city and Kansas University to stop short of a full-fledged merger of their bus systems.
Commissioners at their weekly meeting unanimously agreed to approve a letter of intent that sets a goal of coordinating, consolidating or merging the city and university bus systems by July.
The agreement is different than a proposed agreement reviewed in August that clearly set the goal of fully merging the two systems by next summer.
But City Manager David Corliss told commissioners on Tuesday that there were still too many unresolved details to make such a specific commitment.
Commissioners said they understood.
"It is maybe not as much progress as we would like, but it is still a great step forward," said Mayor Mike Dever.
Corliss said he's still optimistic that the agreement will lead to significantly better service for bus riders, even if it doesn't result in a full merger. Corliss has said he thinks it is likely the university and city bus systems would operate from a shared route map and would honor each other's transfers.
The systems may, however, continue to operate under two different brand names, and perhaps would not share funding or jointly purchase buses.
Commissioner Sue Hack said she wasn't sure residents cared about those details as long as the two systems ended up working better together.
"We're all moving in the same direction to gain efficiencies and to make the best system it can be," Hack said. "Whether it is a merger, whether it is under one name, I don't think it really matters to the transit public."
Other business
At their meeting Tuesday, commissioners also:
¢ tabled a discussion over how much protection to provide prime farmland from future industrial development. City commissioners couldn't reach a consensus on the issue, and instead decided to ask Douglas County commissioners to weigh in on the subject.
¢ unanimously approved new regulations that shorten the amount of time people have to pick up trash from their yards after being cited by city inspectors.
¢ agreed to have another discussion about a rezoning for the Jayhawk Bookstore at next week's City Commission meeting. Commissioners had given tentative approval to the rezoning at last week's meeting. Commissioners were set to give final approval to the rezoning Tuesday, but the applicant objected to the wording of a condition that required the City Commission to approve any future change of use in the property.
Copyright 2018 The Lawrence Journal-World. All rights reserved. This material may not be published, broadcast, rewritten or redistributed. We strive to uphold our values for every story published.