Photo Gallery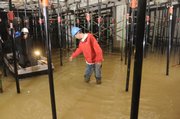 Oread Inn flooded
Construction workers spent Wednesday pumping water out of the Oread Inn development after someone damaged the site overnight.
Police were called at 6 a.m. to the hotel construction site near 12th and Indiana Streets after receiving a report of a roadway obstruction. Officers discovered that someone had activated a fire hydrant near the site and about seven feet of water had filled the construction pit.
KU police were again called to the scene at about 4:15 a.m. Thursday morning. The same fire hydrant was found open and gushing water into the construction site. The hydrant was shut off in about 25 minutes.
"It's an annoyance," said Larry "Cowboy" Wiezorek, a job site superintendent for Lawrence based general contractor Gene Fritzel Construction Co.
Wednesday's hydrant incident damaged several pieces of construction equipment on the site. According to Lawrence police, damage is estimated at $40,000, but construction crews were still tallying their losses.
"We had some forklifts down there that got some water up in them and we don't know the extent of (the damage)," Wiezorek said.
The water filled the basement area of the development, where three construction workers dressed in hard hats, yellow rain coats and black rain boots monitored two pumps Wednesday morning that sent the water through huge hoses and out onto Indiana Street. The pumping was expected to take the entire day.
Meanwhile, cars in the area splashed through a stream of water that expanded out of the gutters of nearby roads.
Some Kansas University students living in the neighborhood gawked at the site on their way to class and were hopeful the problem wouldn't delay the project.
"It really sucks," said Alex Horwitz, a KU sophomore from Prairie Village. "I live right next to it, so we want the construction to get finished, because we wake up to it every morning."
Property owners and those living in the neighborhood have raised concerns about the developer's need to keep a one-block portion of Indiana Street closed until August 2009.
Wiezorek said Wednesday's fire hydrant incident is only "a hiccup in the road" for the $37 million construction project. A similar occurrence happened about three weeks ago, he said, but was discovered more quickly.
"I think whoever does it thinks it's funny," he said. "I don't think it's funny at all."
As for Wednesday's damage, police have not yet identified any suspects. The construction company's working with police and Lawrence-Douglas County Fire & Medical officials on plans to make sure it doesn't happen again, Wiezorek said.
Construction workers said the incident won't hold them back on completing the seven story and 106-room hotel and condo development by January 2010.
The water incident is the latest in a series of problems faced by the development group, which includes Lawrence businessmen Thomas and Tim Fritzel and Todd Sutherland.
Workers also dealt with a water problem in early September, when a water main break caused water to pour into the site.
A construction worker was injured at the site Oct. 13, and taken by helicopter ambulance to a Kansas City-area hospital.
Copyright 2018 The Lawrence Journal-World. All rights reserved. This material may not be published, broadcast, rewritten or redistributed. We strive to uphold our values for every story published.