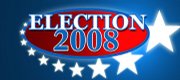 In-depth coverage of the candidates and the issues, all leading up to the Aug. 5 primary and the Nov. 4 general election.
With the election two weeks away, supporters and opponents of a trio of city sales taxes were battling for votes Monday night.
About 20 people attended a sales tax forum sponsored by the Lawrence Association of Neighborhoods at the South Park Recreation Center. What they were treated to largely was a debate about whether to approve two sales taxes totaling 0.25 percent designed to keep the city's public transit system running for the next 10 years.
On one side was Jim Mullins, a leader with the Americans for Prosperity group, who is urging voters to reject the sales taxes. He said voters should reject the sales taxes and ask city commissioners to explore other options to serve those truly in need.
"We need to be asking the city to come up with a better system," Mullins said. "When that happens, we'll get behind it because we want to make sure we have a system that takes care of the most vulnerable."
But supporters said a "no" vote would leave the city essentially without any public transit system at all for at least several years.
"I think it will be a minimum of three to five years to jump through all the hoops to get another fixed-route transit system up and going again," said Tom Worker-Braddock, who is a private transportation planner and member of the Save the T campaign. "And at that point we'll be the last of the Kansas communities in line to get federal funding."
The forum also included information on a 0.30 percent sales tax designed to provide funding for infrastructure improvements, such as street maintenance, stormwater projects, fire truck purchases, and a hike and bike trail.
"Nobody likes a tax increase of any kind, but if there has to be one, a sales tax is the best way to go because people who visit from out of town will pay it, too," said Ted Boyle of the North Lawrence Improvement Association, which is urging voters to approve all three sales taxes.
Mullins' group is also opposing that tax because it believes government has not done enough to control spending.
Copyright 2017 The Lawrence Journal-World. All rights reserved. This material may not be published, broadcast, rewritten or redistributed. We strive to uphold our values for every story published.