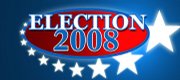 In-depth coverage of the candidates and the issues, all leading up to the Aug. 5 primary and the Nov. 4 general election.
Monday's voter registration deadline for the Nov. 4 election brought a flurry of activity to the Douglas County Courthouse, keeping the clerk's office busy throughout the day and up until the 7 p.m. deadline.
County Clerk Jamie Shew said Monday night that his office had 81,404 voters on the books, but that number will rise in the next few days. Staff members were so busy helping people Monday that they didn't have time to do much data entry. Also, registration applications that were mailed will be accepted as long as they were postmarked Monday.
The county had 77,209 registered voters for the August primary, and 65,181 at the time of the 2004 general election.
County Deputy of Elections Keith Campbell said the amount of registration paperwork Monday was "almost comical." It was a foot tall by the time registration ended at 7 p.m.
County Clerk Jamie Shew said much of the paperwork could be from people registering a change of address, but said he expected a record turnout in the November general election.
With lines out the door Monday evening, it was certain that the process would go right up against the deadline. Lawrence resident David Megee, 24, won the honor of being the last applicant, finishing the paperwork just a few seconds before 7 p.m. He said his wife called to remind him to be back in town before the deadline.
"One day I'm sure I thought I was going to have time," he said, recalling speeding home from Johnson County. "I just knew it was going to be down to the wire, like it was."
Why the rush to get registered Monday? It's important to vote, Megee said.
"Everyone needs to have a voice, man. Even if you're voting for Daffy Duck. Who do you want in the office you're voting for?"
Copyright 2018 The Lawrence Journal-World. All rights reserved. This material may not be published, broadcast, rewritten or redistributed. We strive to uphold our values for every story published.