Audio Slideshow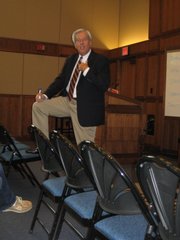 "Recipes For Success" study session
For Tyler Holmes, study groups like the ones at the Dole Institute of Politics come in handy.
The Kansas University freshman regularly attends Joe Gaylord's study group, "Recipes for Success: The Habits and Skills of a Winning Campaign." For the layman, these groups break down the inner workings of political campaigns. But for Holmes, it's a bit different.
"Not only am I really passionate about politics, but I'm actually a candidate at home for the Statehouse," said the 18-year-old Democrat who's running for District 28 in the Kansas House of Representatives. "Sometimes, coming out here, it not only applies to the bigger fish, but it applies to the little campaign I'm running."
Last Tuesday, about 15 Kansas University students and Lawrence residents attended the study session and learned about how candidates manage their financial resources toward the end of their campaigns. The group meets again this Tuesday, when they will learn about directing a campaign.
The study group meets for the last time on Tuesday, Oct. 28, and will focus on targeting voters. Sessions are from 4 p.m. to 5:30 p.m. at the Dole Institute.
Gaylord, a Dole Fellow and veteran political adviser who worked with Newt Gingrich, leads the Tuesday discussions. He said the study sessions not only highlight the behind-the-scenes elements of campaigns, but also inspire people to get involved in the political process.
"You have the direction of the country being just miserable," he said. "How do you have a dialogue about the real challenges that the country faces and get through it when you are asking more from the candidates than a stump speeches answer?"
He says that such political discourse underlies his study group and helps people understand fundraising, paid advertising and communication within a campaign.
Andrew Hodgson, Kansas University senior and a study group coordinator at the Dole Institute, said the sessions acted as conduits for politicians to give students and local residents some political know-how and understanding.
"Anyone interested in politics can really get an inside look at how things go and how things work," Hodgson said.
Last Tuesday, Rick Tyler, director of media relations for Gingrich Communications and a friend of Gaylord's, spoke about the importance of last-minute publicity.
But he also drew attention to what makes a candidate likable. A smile could influence voters' perceptions of a candidate more than a political stance, he said.
Julie Hack, a Lawrence resident and member of the Voter Education Coalition, said she liked how the sessions included well-informed people discussing local and national issues.
"It never hurts to have dialogue," she said. Although she's been interested in the electoral process for decades, she's noted an increase in voter interest this year.
"It's a combination of local, state and national races, but also the sales tax issue," she said. "There's something for everyone."
In purveying issues and platforms, Tyler said it was important to understand the history of specific districts and political trends. Younger people, for example, typically don't vote, he said.
"But," Gaylord added, "They might this time."
Ray Strother, a Democratic consultant, is also holding study sessions on Wednesdays at the Dole Institute. His group will meet the next three Wednesdays, also from 4 p.m. to 5:30 p.m.
His group is focuses strictly on political communications.
Copyright 2018 The Lawrence Journal-World. All rights reserved. This material may not be published, broadcast, rewritten or redistributed. We strive to uphold our values for every story published.