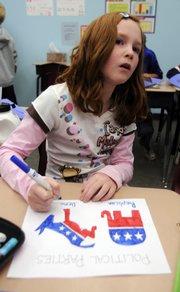 On the street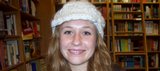 I think they should start as soon as they learn to speak. My parents always talked to me about politics, and I can remember being interested in all of the elections I've seen in my life.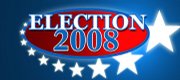 In-depth coverage of the candidates and the issues, all leading up to the Aug. 5 primary and the Nov. 4 general election.
Nickelodeon or Cartoon Network? Reading or math? Big Jay or Baby Jay?
The answers to those questions determined which political party that fourth-graders in Jenny Williams' class at Langston Hughes School would join.
The parties had colors and symbols -- the Chocolate Cake party was blue, the Oreo party, red. While it might be kid-friendly, it's still a lesson on deciding between the issues.
"Even if you belong to one particular political party, you might not agree with everything," said Williams.
And the students hesitated a bit when it came to picking one side or the other.
"One of the questions we that we had to decide about was which was better, Big Jay or Baby Jay, which was very, very hard for me," said Meredith Shaheed, a member of the Chocolate Cake party. "In the end, I chose Baby Jay."
Jack Edmonds was on the other side of the spectrum. "Nickelodeon I like more than Cartoon Network. I like Big Jay better than Little Jay," he said.
But he wasn't 100 percent sold on the Oreo party. "I didn't agree with everything. I like Skittles better."
The activities are part of Kids Voting curriculum and Williams hopes they take away life lessons.
"I think the more they learn about it now and get excited about Kids Voting now, the more likely they are to maintain that excitement and encourage them to vote later on," she said.
The kids seem to be getting the message.
"If I could vote, I would," said Jack. "It seems fun."
Even though Meredith likes a different party, she agreed. "It sounds really fun and interesting."
Youths who are pre-school to age 17 can participate in Kids Voting on Election Day. They can vote at most Douglas County polling place from 7 a.m. to 9 a.m. and from 3 p.m. to 7 p.m.
Copyright 2018 The Lawrence Journal-World. All rights reserved. This material may not be published, broadcast, rewritten or redistributed. We strive to uphold our values for every story published.