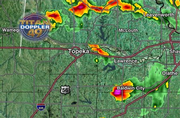 The National Weather Service has allowed a severe thunderstorm warning in Douglas County to expire.
A strong thunderstorm, but not strong enough to be called severe, moved through eastern and southern portions of the county between 7:20 p.m. and 8:45 p.m. The storm was expected to impact areas including Eudora, Vinland, Baldwin City, Pleasant Grove and southeast Lawrence.
At 7:22 p.m. doppler radar indicated a severe thunderstorm capable of producing large hail was located 10 miles northwest of Ottawa and headed toward Globe, Lone Star and Centropolis. By 7:42 p.m., the storm has weakened to the point it was no longer a significant threat.
Stay tuned to LJWorld.com for more information on any severe weather.
Copyright 2018 The Lawrence Journal-World. All rights reserved. This material may not be published, broadcast, rewritten or redistributed. We strive to uphold our values for every story published.