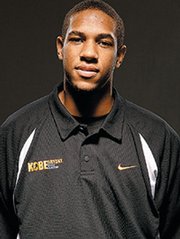 Now that Xavier Henry has visited both Kansas University and Memphis, all that remains is for Rivals.com's No. 3-rated player to make a final decision on a school.
There's no timetable or deadline for the decision, Henry's mom, former KU player Barbara Adkins, said Monday night.
"He just got back from his visit (to KU) yesterday. He is going to take a few days, look at positives and negatives and go from there. He doesn't really have a date in mind," said Adkins, who indicated the announcement ultimately would be made on ESPNU.
The network doesn't need much advance notice, so TV scheduling is not a factor in when Xavier's decision will be revealed, she said.
"It's not like they have given him a date. There's no pressure from them," Adkins said.
She said no decision has yet been made.
"He likes both schools and coaches," Adkins said. "Both coaches (Bill Self, John Calipari) are giving him space. We'll talk as a family and let him tell us what he's thinking."
Adkins said her son is not feeling any stress as the Nov. 12-19 early-signing period nears.
"He doesn't tense up or anything like that. He has school, a lot of things going on. He's rehabbing as well," she said.
Henry suffered an assortment of injuries on the AAU circuit last summer. ESPN.com recently reported that Henry suffers from Osgood-Schlatter disease, which causes swelling and pain just below the knee over the shin bone.
In April, Henry bumped knees with a teammate, which caused a flare-up of the Osgood-Schlatter, ESPN.com says. When he returned to the court a few weeks later, he split a bone in his ankle but continued to play. It's expected he'll be ready for the start of the high school season in November.
Copyright 2018 The Lawrence Journal-World. All rights reserved. This material may not be published, broadcast, rewritten or redistributed. We strive to uphold our values for every story published.