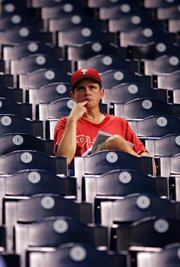 Philadelphia — Welcome to World Series, 2008. Let's meet our contestants.
From Philadelphia, the losingest team in pro sports history. From Tampa Bay, a club that on opening day could have made a strong case for worst expansion franchise ever.
Call it the Sad Sack Series, when one of these teams finally has to shed its tradition of futility and become the big winner.
The Rays started with 10 straight losing seasons.
But that's a blip compared to the 16 straight years of losing endured by the Phillies from 1933 to 1948. In fact, the Phillies have done worse than that twice. They were also under .500 for each season from 1918-31. From 1918-1948, a span of 31 seasons, the Phillies had one winning record - a 78-76 season in 1932.
At least the Phillies boast Mike Schmidt, Steve Carlton, Pete Rose, Richie Ashburn and Robin Roberts as all-time greats. Heck, they had four Cy Young Award winners in the 1980s, and home run champ Ryan Howard (2006) and All-Star shortstop Jimmy Rollins (2007) have won the last two NL MVP awards.
Yet for all that talent, thrilling September pennant chases and a recent string of winning seasons, the Phillies have but one World Series title - and that was back in 1980.
Tampa Bay tried to rely on other team's fading stars to build a fan base.
Jose Canseco, Fred McGriff and Vinny Castilla were "Past-Their-Prime-Time Players" and all busts with Tampa Bay. Manager Lou Piniella dyed his hair blond after a three-game win streak in 2003, but couldn't win much else in a failed return to his hometown. Even the original "Devil" in the nickname was a flop and got pitchforked out.
Tampa Bay's highlight reel before this season consisted of Wade Boggs' 3,000th hit in 1999 and Sammy Sosa's corked bat exploding against Devil Rays pitcher Geremi Gonzalez in 2003.
Tampa vs. Philly
Ahh, but at least Tampa Bay knows the thrill of kicking Philly down in other sports.
Again, the men from the Sunshine State are standing in the way of a Philadelphia championship.
The blood of Eagles fans still curdles like the cheese on their steaks at the thought of the 2003 NFC championship game. Philadelphia was favored to send since-demolished Veterans Stadium out with a championship in its final game, and the frigid temperatures and wind chill were going to intimidate those warm-weather Bucs.
Ronde Barber and Joe Jurevicius instead helped Tampa Bay win for only the second time in franchise history with the temperatures under 40, and the Buccaneers stunned the Eagles, 27-10. The Bucs would go on to beat Oakland and win the Super Bowl.
Fifteen months later, the Tampa Bay Lightning beat the Flyers, 2-1, in Game 7 of the Eastern Conference finals. Tampa Bay then won a seven-game series against the Calgary Flames to celebrate with the Stanley Cup.
For those keeping a championship tally at home, that's Tampa Bay 2, Philadelphia 0.
Fans in Philly
A walk downtown last weekend showed fans had traded those green-and-white Donovan McNabb and Brian Westbrook Eagles jerseys for the red pinstripes of Howard, Utley and Rollins. It was impossible to go to a restaurant, a bar, the grocery store, and not see fans of all ages decked out in Phillies merchandise.
The Phillies are going to the World Series, and they're bringing thousands of diehards along for the ride.
"We can feel the energy level, and the energy level is very good," said Pat Pedicini, who works at Philly Sports Shop at The Shops at Liberty Place. "People are starting to show they are deep fans. The old fanbase is waking up, and the new ones are starting to understand what it is like to be a Phillies fan. And they are definitely coming out and buying."
Fans in Tampa
Down in Florida, shopping for winter coats has been more in style over the last decade than going to a Rays game. Tarps covered the upper-deck seats of the domed Tropicana Field until Game 6 of the ALCS against Boston, and fans were slow to believe and support the Rays in the thick of the pennant race.
The warm - and fair - weathered fans have seen the Rays of light.
"Obviously, there are a lot of fair-weather fans jumping on as they win, but a lot of people are die-hard Rays fans who've just been following them and following them," said Mark Cram, sitting at Ferg's Sports Bar in the shadow of Tropicana Field on Monday. "It's just really cool to see this being brought home. What a year. What a change."
Copyright 2018 The Associated Press. All rights reserved. This material may not be published, broadcast, rewritten or redistributed. We strive to uphold our values for every story published.