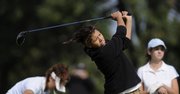 In 2007, just before her sophomore season was to begin, Free State High golfer Grace Brahler broke her foot.
The injury put her in a golf cart for the entire season, and her goal of following up a solid freshman year with a return trip to state was put on the shelf.
Fast forward 14 months later, to Monday, when Brahler, now a junior, finally was able to deliver the encore performance she had been waiting for at the 2008 state golf tournament at Alvamar Golf Course.
Brahler and Free State senior Kelly Morris were the only Firebirds to qualify for this year's event. But for both of them, who had been there before and worked tirelessly to get back, Monday's round simply was about the thrill of the return.
"It was just good to be able to play this time," said Brahler, who shot a 94. "It could've been better, but qualifying is something. I'm just happy to be out here."
Brahler and Morris both battled a bevy of obstacles throughout the day. The wind played a small factor; the tough Alvamar course had an even bigger impact. But both girls said the mental aspect of battling 88 others at a high-stakes tournament definitely took its toll.
"My goal was to just come out here and have fun," said Morris who shot a 113. "But once I got out here, it was kind of hard because you see all of the other girls, and it's kind of intimidating at first."
Free State coach Craig Hershiser said he did his best to prepare Brahler and Morris for the magnitude of the state meet, particularly because both were playing as individuals and not part of a team.
"It's a different atmosphere, and it's certainly more competitive," Hershiser said. "But you just have to put that out of your mind and play. It's still the same swing, it's still the same shots."
Unfortunately for the Free State girls, it didn't include the shots they were accustomed to hitting.
Brahler said her goal Monday was to shoot in the 80s. Although the 94 on her scorecard - 45 on the front nine, 49 on the back - landed her five strokes away from breaking 90, she said she did not have to think too hard to locate areas she could have improved.
"There were a lot more than five strokes," she said. "My putting got away from me. For the most part, my drives were good, and I got more length than normal."
Brahler's biggest highlight came on No. 8, where she chipped in from just off the green for a par.
Morris' highlight also was carding a par. On No. 1, she hit one of her best drives of the day, followed that up with a solid second shot and then chipped on and sank her putt. The rest of the day was not as consistent.
"There were a lot of little things along the way that just didn't go my way," Morris said.
Still, despite her struggles - 52 on the front, 61 on the back - Morris left the state meet with a huge smile on her face.
"I'm excited that I'm here," she said. "Excited that I made it. It's not a horrible thing to go to state."
Blue Valley West's Whitney Pyle was overall medalist with an 83. Manhattan won the team title with 346 total strokes.
Copyright 2018 The Lawrence Journal-World. All rights reserved. This material may not be published, broadcast, rewritten or redistributed. We strive to uphold our values for every story published.