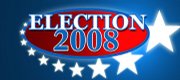 In-depth coverage of the candidates and the issues, all leading up to the Aug. 5 primary and the Nov. 4 general election.
Candidates in two state House district races on Monday clashed over the issue that dominated the last legislative session and will probably re-emerge in the next legislative session: coal-burning power plants.
In the District 10 race, Democrat Tony Brown of Baldwin City said the proposal to build two 700-megawatt coal-fired plants in southwest Kansas would have been "catastrophic for the next generation."
But his Republican opponent, John Coen, of Franklin County, said he supported the project because it had high environmental standards and meant "economic development for western Kansas."
In the District 45 race, incumbent Republican Tom Sloan of Lawrence voted for the project, saying it gained his support after the House accepted environmental provisions that he put in. He said coal, especially the potential of so-called clean-coal technology, must be part of a balanced energy plan.
But his opponent, John Wilson of Lawrence, opposed the project, and said clean coal was a misnomer. "Putting clean in front of something doesn't make it so," he said.
The mining and transportation of coal adds to the pollution produced by coal burning, he said.
The four candidates participated in a forum at Free State High School that was put on by the Voter Education Coalition.
During the last legislative session, Gov. Kathleen Sebelius vetoed legislation to build the coal-fired plants, citing health and environmental concerns about carbon dioxide emissions from the project.
On the issue of potential budget cuts because of the worsening economy, the candidates said Kansas was probably in a little better shape economically than many other states.
Wilson said one way to avoid cuts was to increase revenue through investments in renewable energy and associated jobs.
Wilson and Sloan disagreed on the law approved in 2006 that allows Kansans to get a license to carry concealed guns. Wilson said he opposed it, while Sloan voted for it. "I trust my neighbors," Sloan said. Both Brown and Coen said they supported the law.
The Voter Education Coalition is a nonpartisan partnership of 18 local groups interested in promoting voter participation and civic dialogue.
Copyright 2018 The Lawrence Journal-World. All rights reserved. This material may not be published, broadcast, rewritten or redistributed. We strive to uphold our values for every story published.