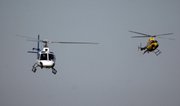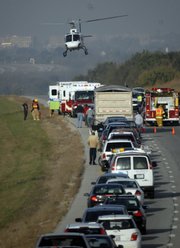 A 51-year-old Eudora woman has died from injuries she received in a two-vehicle accident Monday morning on Kansas Highway 10.
The Kansas Highway Patrol said Helen Moorhead was traveling in the westbound lanes of K-10, when a car traveling east left the highway, lost control, crossed the median and struck Moorhead's 1996 Ford passenger car, a Kansas Highway Patrol report said. Moorhead was transported to Kansas University Hospital in Kansas City, Kan., with injuries and later pronounced dead. It's unknown whether she was wearing a seat belt.
Three emergency helicopters were called to the accident, which occurred about 8:20 a.m. near the Wakarusa River Bridge about one mile west of Eudora.
The KHP identified the 38-year-old driver of the 2005 Toyota that left the road as Errin Lang, of Lawrence. She was taken to St. Luke's Hospital in Kansas City, Mo., where a spokeswoman said she was in serious condition. Lang was wearing a seat belt, a KHP report said.
Ryan Martinez, a 32-year-old passenger in Lang's car, was taken to Kansas University Hospital in Kansas City, Kan., where a spokesman said he wasn't able to provide information regarding his condition. The Eudora man was not wearing a seat belt, according to the report.
A 10-month-old child in the car, Allie Martinez, was taken to Lawrence Memorial Hospital, where she was treated for her injuries and released, a hospital spokeswoman said Monday morning. The Eudora infant was in a child restraint device, the KHP said.
Traffic on K-10 was shut down in both directions while emergency crews responded to the accident. All lanes reopened about two hours later, a KHP dispatcher said.
Moorhead was a native of England, and had moved to the United states when she was 18 years old. She had three children, an adult daughter, Amy Rooney, and sons Taylour Monahan, 12, and Dylon Monahan, who turns 11 on Friday. Moorhead also had three grandchildren.
Rooney remembered her mother Monday night. "My mom was a great person; she was always so funny and so outgoing. Our Christmases, we had really good Christmases."
Taylor had fond memories of another holiday: "One of my really good memories was over the summer when we went to the pool, and Halloween she used to drive us around."
Copyright 2018 The Lawrence Journal-World. All rights reserved. This material may not be published, broadcast, rewritten or redistributed. We strive to uphold our values for every story published.