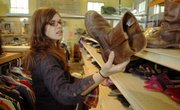 -->
Americans who are strapped for cash are getting creative with ways to solve their money problems.
Some people take on extra jobs, while others are giving up their goods to make quick cash.
It's a good time to own a pawn shop. Hard times tend to be good times for pawn brokers.
Doug Wahl, owner of Lawrence Pawn and Jewelry, 944 E. 23rd St., said he has recently noticed more people pawning goods to pay for everyday items. "It's been pretty busy," Wahl said. "We've seen quite an increase in loans from people just needing short-term loans, for people just getting gas at the end of (or) right before the end of the pay period."
Wahl said the majority of his business comes from repeat customers whose need for cash follows a pay cycle.
Close to the entrance of the pawn shop is a display full of precious stones, gold and pearls. Most people in need of loans are bringing in jewelry.
"Gold," Wahl said. "Scrap gold, even if it is broken gold, they bring it in."
They are also offering up firearms and power tools, which Wahl says are not selling.
"I think the recession and people out of work are having an effect on our tools sales," he said.
Wahl said he believes pawn shops provide a service that banks cannot.
"Banks do big loans for a long period of time, and we do short-term loans for a very small amount of money, he said. "People are just needing a little bit of cash, and the banks won't do it. They can't loan somebody $20, or $50 or $100. There's too much paperwork involved. That's really our niche."
Meanwhile, secondhand stores like Second Chance Children's and Maternity Store, 847 Mass. in downtown Lawrence, have a lot of recycled inventory on racks and shelves.
Store manager Diana Buchanan said more people have been calling to make appointments to see what clothing and equipment they can sell to the store.
"We take a look at what they have," she said. "We set a price on that for what we're going to resell it at, set that price, and then we total it up and we offer 40 percent of that total in cash, or 50 percent in store credit."
Frequent Second Chance shopper Rebecca Henry entered the shop with a list of what her 2-year-old daughter, Helen, needed. They settled on a pair of slightly used winter boots. She said she and Helen enjoying searching for the bargains.
"I come here because it is easier on our budget and because I know that if she's a typical kid, she grows out of a lot of her clothes without much wear and tear," she said.
Henry believes selling back clothes and shopping at secondhand stores will become more popular as Americans struggle to pay bills.
"More people are going to buy and sell at places like this because you can stretch out your budget a little bit easier," she said.
Lawrence Pawn and Jewelry and Second Chance may have more people coming in for loans and to resell clothes, but both businesses report that sales are down. They're hoping sales increase as the holidays approach.
Copyright 2018 The Lawrence Journal-World. All rights reserved. This material may not be published, broadcast, rewritten or redistributed. We strive to uphold our values for every story published.