Photo Gallery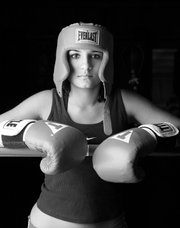 Senior Pictures
The trends
Local high school students and photographers say these are the top trends in senior photography:
¢ Outdoor settings, especially with fall foliage.
¢ Urban settings, such as abandoned train tracks, alleys and older buildings.
¢ Color enhancement, such as black and white with spot coloring.
¢ Relaxed, playful poses - sometimes action shots with or without props such as sports equipment or instruments.
¢ Signatures on the photos or blurred borders.
Gone are the days when high school senior photos looked, well, all the same. Today, the portraits students pass out to family and friends reflect the individual's flair and personality.
Digital photography is to thank for the drastic change from a few formal shots in a studio to the hundreds taken across town and largely outdoors, resembling more of a modeling shoot. It's even the reason some students are leaving professional studios behind altogether and recruiting friends or family to take their photos.
"This day and age, almost anything goes," says Ann Katzenmeier of Katz Photography in Eudora. "You never know what you're going to get."
When Katzenmeier was in her senior year in 1986, that wasn't the case.
"We sat in a room. ... It was horrible," she says. "You had two boring backgrounds and a few headshots."
Now, the possibilities are endless, she says.
She and her husband, Mark, specialize in outdoor photography, an increasingly popular trend for students.
"I think it reflects them more," she says. "You just feel limited in a studio. They are more comfortable outdoors, and a lot of kids want fall colors."
Having fun and being comfortable is what it's all about, says Free State High School senior Courtney Moore, 17.
"I think the trend is to be more casual, more playful," she says.
Moore had her photos taken by Maggie Kruger of Lawrence. To add a personal touch, Moore's black Labrador, Elvis, joined her for some shots.
"It was really fun, although he didn't really want to participate," she says.
On the national scene, high school women are continuing to pick up on a trend that began last summer with "trash your wedding dress," says Laura Wolfe of White Lotus photography. Students don their new or used prom dress and pose in water, at fire stations or romp around in the woods. Wolfe says she hasn't noticed the trend catch on in Lawrence yet.
The digital world of photography is a double-edged sword for professional photographers. It allows them to spend hours at various locations taking hundreds of shots at no extra cost. They can edit to the clients' request using special effects or air brushing, for example. All the options have improved business for some and decreased clientele for others.
"There are more people looking to alternatives, especially in high school because you have a lot of friends who are getting ready to go to art school and that know you much better," says Sarah Stern, 17, Free State High School senior who is in her third year running her own photography business.
She adds that knowing your photographer well allows a student's "personality to shine" in their photos.
Simi Singh, 18, a 2007 Lawrence High School graduate, says she had her photos taken by Stern because it was cheaper and she knew she'd have a different look than others.
"The norm now is to make your senior photos what you want people to remember you by," Singh says.
Copyright 2018 The Lawrence Journal-World. All rights reserved. This material may not be published, broadcast, rewritten or redistributed. We strive to uphold our values for every story published.