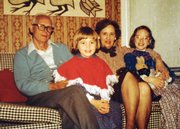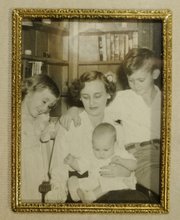 Step out for a cause
Lawrence Memorial Hospital leaders are encouraging community members to get down and boogie for a good cause.
The 16th annual Stepping Out Against Breast Cancer dance is a fundraising event that helps provide mammograms for uninsured and under-insured Douglas County residents. It also helps provide equipment and education materials for the hospital.
The dance will be from 8 p.m. to midnight Saturday, Oct. 25, at Crown Toyota Pavilion, 3430 Iowa. The cost is $35, which includes soda, beer and wine.
There will be music, a costume contest, and a raffle for themed gift baskets and two scooters. Raffle tickets will be $1 for the baskets and $10 for the scooters. Music will be provided by The Benders, a '50s and '60s band.
Tickets for the dance or raffles may be purchased in the LMH Endowment Association office, 330 Ark., Suite 200; LMH Gift Shop, 325 Maine; Weaver's, Ninth and Massachusetts streets; and all Lawrence-area Central National Bank locations.
Tickets also will be available for purchase from 11 a.m. to 1 p.m. Oct. 20-24 in LMH's atrium, where the themed gift baskets will be on display.
When Gladys Shaw felt a lump on her right breast 51 years ago, there were no pink ribbons. There were no breast cancer support groups. And October wasn't Breast Cancer Awareness Month.
Living in Tyler, Texas, in 1957, she didn't know a relative, friend or movie star who had or had survived breast cancer. It simply wasn't talked about.
Today, it is a much different story.
Sitting on a couch in her second-floor apartment at Pioneer Ridge Retirement Community in west Lawrence, 88-year-old Gladys talked frankly about surviving the disease.
She recalled her doctor's advice after having a test that discovered the cancer.
"He said, 'Gladys, I was taught that if you have this lump, you remove the breast to be sure. But if you want to go to somebody else, it won't hurt my feelings.' "
"My heart just went to my shoes," she said.
After having a conversation with her husband, Milbry, she decided to have the mastectomy. They trusted the doctor because he had trained at the prestigious Mayo Clinic and he was a close friend.
"I had three children to raise and I had to live," she said. At the time, her children ranged from ages 9 to 18. Her oldest son, Michael, of Lawrence, remembered returning from college for a family conference with the doctor.
"That was kind of a dramatic moment when he explained to us that he was going to have to operate, but he was confident of success," Michael said.
A difficult process
Gladys said the toughest part was the waiting.
"I just wanted to get it over with. It was very emotional. I looked in the mirror and I knew that it would never be there again," she said.
Despite such feelings, she remained mum about her condition to friends and family. Her husband was her confidant. During our visit, she picked up a picture of her late husband and two sons - her three guys. She kissed her fingers and placed them on top of her husband's lips.
"He just told me he loved me and that it didn't make any difference to him," she said. "He said, 'I didn't marry you for your breasts.' I don't know that that happens to everybody, but that certainly was the support that just got me through it."
Shaw had a Halsted radical mastectomy, a surgical procedure in which doctors remove the lymph nodes, breast tissue and breast muscle. Afterward, she went through physical therapy because she could barely lift her arm. She also quit swimming and adjusted her wardrobe to hide the scars.
"It was hard," she said. "It was really hard because everybody wore sundresses in Texas with the heat - not everyone had air conditioning, you see. I always had to wear a little jacket or something because I had this big hole under my arm."
Gladys said she didn't dwell on it; instead, she jumped right back into living by taking care of her family, starting an antique shop, traveling and volunteering. She said serving on a child welfare board was eye-opening.
"I found out that I wasn't the only one in the world that was having a problem. I think that's the secret: Get busy, particularly to help others."
Much has changed
Lawrence resident Dianna Nelson did just that. The six-year breast cancer survivor volunteers in the Lawrence Memorial Hospital oncology department, belongs to a local breast cancer support group called Bosom Buddies, and helps with Relay for Life, an annual event that raises money to fight cancer.
She received her diagnosis in 2002 and had chemotherapy to shrink the tumor and then had a lumpectomy. During treatments, she attended her first Relay for Life, which provided hope.
"It's certainly more open now and people do talk about it," she said.
Nelson is wearing a pink strand in her hair and helping with an upcoming dance called Stepping Out Against Breast Cancer, which helps fund mammograms for underinsured women.
She's thankful for today's resources, treatments and inspirational stories. She said Gladys, who may be one of the longest survivors of the disease, provides hope for others.
"The over-arching thing that's really been significant in the last two to three decades is the increased awareness of the disease," said Diana Rowden, vice president of health sciences for Susan. G. Komen for the Cure, a national breast cancer network.
Rowden credits Betty Ford for bringing breast cancer to the national spotlight. Ford underwent a mastectomy in 1974, just weeks after becoming first lady.
Rowden also notes the advancement in treatments and surgeries. She said doctors don't take as much tissue in today's mastectomies and many women opt for breast reconstruction instead of prosthesis.
Gladys wears a mastectomy bra and has specialized inserts. She said if she were younger, maybe she would seek reconstructive surgery. But at 88, she has no regrets.
"It's been a wonderful life," she said. "I want people to know that, because I know that would have encouraged me if I had heard that."
Stopping at KU
A bright pink vehicle will park Monday, Oct. 27, on Kansas University's campus to educate people about breast cancer.
It is part of a nationwide tour called Komen on the Go, which is sponsored by Susan G. Komen for the Cure, a worldwide breast cancer network. The event will be from 9 a.m. to 3 p.m. in front of the Kansas Union.
The vehicle turns into an interactive learning center with information on how to detect the disease and find treatment. There will be an 8-foot "graffiti wall" for sharing stories or pledging support. Local breast cancer survivors and health care professionals will share their knowledge and experience.
For more information, click here or call Ken Sarber, of KU Student Health Services, at 864-9573.
Copyright 2018 The Lawrence Journal-World. All rights reserved. This material may not be published, broadcast, rewritten or redistributed. We strive to uphold our values for every story published.