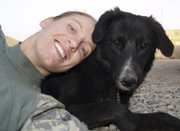 Baghdad — Ratchet the Iraqi puppy finally had his day.
An animal rescue group flew into Baghdad on Sunday and picked up the dog, which was adopted by Army Spc. Gwen Beberg, 28, of Minneapolis in a case that highlighted military rules barring troops from caring for pets while in Iraq.
Ratchet was loaded onto a charter flight, which took off Sunday night for Kuwait. He's due in Minnesota later this week.
It was the third try by Operation Baghdad Pups to get Ratchet out of the country on behalf of Beberg, who says she couldn't have made it through her 13-month deployment without the affectionate mutt.
She and another soldier rescued the puppy from a burning pile of trash in May.
Beberg's quest to get the dog had gained international attention. More than 65,000 people from Illinois to Italy signed an online petition urging the Army to let the puppy go to the United States.
Copyright 2018 The Associated Press. All rights reserved. This material may not be published, broadcast, rewritten or redistributed. We strive to uphold our values for every story published.