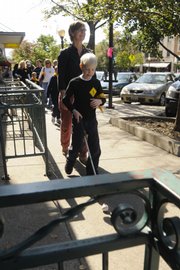 About 30 people tied yellow scarves around their arms and strolled down Massachusetts Street in an effort Saturday to educate the community about blindness.
"We are demonstrating with our canes and our dogs, the independence and freedom that we have," said Jim Canaday, vice president of the Douglas County Area Chapter of the National Federation of the Blind. "We are out among the people, the public. We give them a chance to see us."
The White Cane Walk, which went from 11th Street to Seventh Street, followed White Cane Safety Day, a national event on Wednesday, recognizing the rights of blind people.
Canaday said the challenges that blind people face in educating the public are different from those for people with mobility impairments.
"We face a different kind of a prejudice, a kind of well-meaning, soft-glove sort of prejudice," he said. "Low expectations, and 'the blind person needs protection' and stuff like that. We need to be allowed to do as much as we can."
Rob Tabor, benefits advocate for Independence Inc., said that there is a continuous need for public education and that misperceptions still occur, particularly in the workplace.
"There seems to be a glass ceiling when it comes to situations like employment," he said. "Sixty-five to 70 percent of blind people are either unemployed or underemployed. These are national numbers. : We keep on pressing with public awareness events like these."
KU student Rachel Magario, who also participated in Saturday's walk, said she has never been turned down for a job, but she agreed that the most important area for public education about blindness is in the professional world.
"When I go to interviews, sometimes people ask me, 'How are you going to write, or how are you going to do spreadsheets?'" she said. "Sometimes, I have an answer for them. A lot of times, I don't have an answer. But, just like anybody else, I have the right to learn. I'm a quick learner."
Copyright 2018 The Lawrence Journal-World. All rights reserved. This material may not be published, broadcast, rewritten or redistributed. We strive to uphold our values for every story published.