Photo Gallery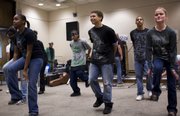 Rock the Vote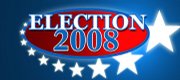 In-depth coverage of the candidates and the issues, all leading up to the Aug. 5 primary and the Nov. 4 general election.
Local teens faced the music Saturday and registered to vote during the Rock the Vote First Time Voters' Rally at the Lawrence Public Library.
The rally included a battle of the bands, a performance by Lawrence band The Dead Girls and local candidates who spoke to the group about the importance of voting.
"I think the most important part is getting kids involved and engaged, getting them informed," said Kim Patton, a young adult specialist at the library.
Students from Lawrence and Free State high schools helped plan and organize the event.
"When you don't vote, you're sort of silenced by society and you don't get your voice heard," said Carina Fowler, a senior at LHS and a member of the Young Democrats.
The music from the event helped bring the students in, and most of them stayed to hear the candidates, said Hannah Kapp-Klote, a Free State High senior and president of the Young Democrats.
The candidates on hand included State Sen. Marci Francisco, D-Lawrence, and her Republican opponent, Scott Morgan, as well as State Rep. Barbara Ballard and three Libertarian candidates from the local to the federal level.
Most of the students at the rally had taken part in Kids Voting Kansas, which allows any child from preschool to 17 to cast a ballot at any polling place in Douglas County.
"Kids Voting is really important because the earlier you start with civic engagement, the better, the more they learn, the more engaged they're going to be," Patton said. "I think it's really a vital thing for our community to do."
Kapp-Klote took part in Kids Voting Kansas and said the younger that kids are exposed to politics and voting, the better.
"We spend a lot of time courting 18-year-olds and 20-year-olds," she said. "No one's ever said to them when they were younger, 'Hey, voting is important.' When you don't get that early on, that's the reason we have the youth vote that's so diminished."
Kids Voting Kansas began in 1992 in six communities, including Lawrence, and now encompasses 55 communities with more than 230,000 students.
For more information on Kids Voting Kansas, go to kidsvotingkansas.org.
Copyright 2018 The Lawrence Journal-World. All rights reserved. This material may not be published, broadcast, rewritten or redistributed. We strive to uphold our values for every story published.