On the street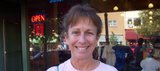 Not a long one. I've written a few short stories, but I don't think I could write an entire novel.
Submit an item
Suggestions for participating in National Novel Writing Month from founder Chris Baty and local participants:
¢ Don't be self-conscious. Not everything you write will be great. Leave the editing for later.¢ Convince a friend to participate, too, for encouragement and accountability.¢ Do word challenges. Compete for 24 hours against a friend to see who can write the most words.¢ Attend a write-in. The organization's Web site, www.nanowrimo.org, will list local writing events, where participants can bounce ideas off one another or just get inspiration.
NaNoWriMo by the numbers
1999 participants and "winners": 21, six
2007 participants and "winners": 101,510, 15,333
Number of countries represented in 2007: 80
Number of words logged in last years event: 1.187 billion
Number of manuscripts sold to publishers: 27
Like a lot of people, Ted Boone had always wanted to write a novel but didn't think he had the time.
"I think people can sit down and watch a television show and think, 'I could have written that,' or 'I would have written it better,'" Boone says. "And I think we do that with books, too. There's a temptation to compete with the creative forces that are out there."
With one recent study showing more than 80 percent of Americans would like to write a book, it's obviously a common goal for many.
So if you're one of those who wants your own novel, get your laptop fired up - National Novel Writing Month is just a couple of weeks away.
The annual event, which goes by the shorthand NaNoWriMo, is pretty straight-forward: Write a 50,000-word novel during the month of November, then upload it to www.nanowrimo.org. A computer will count your words, and if you hit the 50,000-word mark, you'll get a certificate.
"There's no magic here," says Chris Baty, a Prairie Village native who founded the event. "All we're doing is giving people a little bit of inspiration and a little structure."
Baty, who now lives in San Francisco, started the writing event in 1999 with a group of friends. They picked 50,000 words as an arbitrary number that seemed attainable but would still qualify as a short novel.
It's grown to include a nonprofit organization and more than 101,000 participants in 80 countries last year.
"We all have dozens of books in us," Baty says. "Sometimes people get caught up that they don't have THE idea, the book no one's ever written before, and it has to appear before they start writing. That idea I don't think ever comes. You just have to start writing."
'Not great words'
That's the way it was for Lawrence resident Sara Lundberg. She attempted to hit the 50,000-word mark twice before finally attaining it last year with a fantasy story.
"It's probably going to be crap," she says of most of the NaNoWriMo novels. "Thirty thousand of the 50,000 I wrote last year are not great words. There are gems in there, though, that are amazing, that I didn't know I could write."
That may be the case, but NaNoWriMo novelists have had some luck in the past. Baty says 27 manuscripts have been sold to publishers, and the event can now tout a New York Times best-seller: "Water for Elephants," by Sara Gruen.
The key, participants say, is not to worry about quality - just get words on paper.
Daunting?
Writing 50,000 words might sound like a difficult task.
But Boone, a lecturer in Kansas University's School of Business who serves as the Lawrence organizer for NaNoWriMo, says it's definitely attainable. He's done it three years, all with science fiction stories.
There are different strategies to getting through.
"For me what works is writing scene by scene," he says. "Some days, I'll write a chapter that's 3,000 words, which is a lot of output for a single day. The next day, I might write a single scene that's much shorter."
Others, he says, just try to get through 1,667 words a day, which puts them on pace to finish the novel by the end of the month.
And there are resources available. The organization's Web site, www.nanowrimo.org, has tips and also lists local write-ins that will happen in Lawrence in November.
At those writing events, NaNoWriMo participants can get inspiration from one another and bounce ideas off of other writers.
"It's a really interesting crowd in Lawrence," Boone says. "You'll get people in full goth gear and makeup, and people who are professors. It really grabs the spirit of NaNoWriMo. People who wouldn't usually rub elbows with one another see they have commonality."
'Life of its own'
If you want to participate and don't have an idea, don't fear. Boone says he often doesn't choose his topic until a day or two before Nov. 1. And even then, he doesn't have the whole thing mapped out.
"I usually find I've got a good starting point, a couple of way points in the middle I'd like to strike, and I know where I want to finish," he says. "In the process, they'll get to the point where they feel like they're not telling the story. Literally the story will take on a life of its own."
Lundberg, an administrative associate at KU, plans to write a story about vampires to fill her November writing fix. She starts getting excited about writing every year around this time.
And even if she never gets anything published, it's worth her time.
"If I could make writing my life, that would be amazing," she says. "But most of my writing I do for myself. The thought of sharing it with the world is scary. But maybe someday I'll write something that's significant enough and I think is good enough I'll want to share it."
Copyright 2018 The Lawrence Journal-World. All rights reserved. This material may not be published, broadcast, rewritten or redistributed. We strive to uphold our values for every story published.