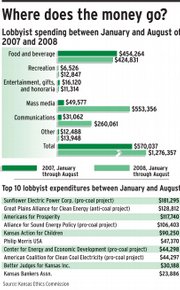 Topeka — Lobbyists' spending has doubled over last year, and the reason is the controversy over two coal-fired power plants proposed for southwest Kansas.
But state legislators are not getting wined and dined more than usual. The increased spending is for a public relations blitz by the pro-coal and anti-coal groups urging everyday Kansans to pressure legislators.
"They are trying to get whomever out there to contact their legislator to urge action or nonaction on a specific bill," said Carol Williams, executive director of the Kansas Ethics Commission.
From January through August, lobbyist spending totaled $1,276,357, according to a report released last week by the Ethics Commission. For the same period in 2007, lobbyist expenditures were $570,038 - less than half.
And the biggest difference is in the areas of communications and mass media, such as television, radio and newspaper ads.
Advertising has increased more than 11-fold, from $49,577 to $553,356, and communications such as newsletters and mailings have increased nearly ninefold, from $31,062 to $260,061.
And the bulk of those ads and mailings have been done by groups fighting over the coal project.
Gov. Kathleen Sebelius' administration denied permits for two 700-megawatt coal-burning plants near Holcomb, citing concerns over the emission of carbon dioxide and its effect on health and the environment.
The Legislature, led by western Kansas lawmakers, approved legislation to reverse that decision, but Sebelius vetoed the bills. Supporters of the plants were unable to get the two-thirds majorities to overturn the vetoes.
Project developer Sunflower Electric Power Corp., based in Hays, has spent $176,370 on mass media urging the public to support the project. In addition, the company has spent several thousand dollars more on meals for lawmakers.
"It's a matter of trying to get our story out," said Sunflower spokesman Steve Miller.
Sunflower was helped along by several groups backed by coal interests, such as the Alliance for Sound Energy Policy, which spent $106,403 on ads through August; Center for Energy and Economic Development, $44,298; the American Coalition for Clean Coal Electricity, $44,297; and Kansans for Affordable Energy, $11,845.
On the other side of the issue, the biggest spender was the Great Plains Alliance for Clean Energy, which spent $128,812 on communications and advertising.
"We came into existence because a lot of Kansans felt the need to tell the more broad story," said Scott Allegrucci, executive director of GPACE.
Allegrucci said GPACE felt outgunned in the battle to try to influence the Legislature. In addition to the pro-coal groups, several business organizations also joined the fray on Sunflower's side.
And both sides say the spending and wrangling will continue when the Legislature meets in January. Sunflower's appeal for permits for the project are now before an administrative review and the Kansas Supreme Court.
But Sunflower's Miller said a legislative fix is still a possibility because, he said, the plants are important to Kansas.
Allegrucci said that his side's view is just as important and that they are ready to fight and spend, too.
"If proponents make it an issue, we will feel compelled to tell our story as well," he said.
Copyright 2018 The Lawrence Journal-World. All rights reserved. This material may not be published, broadcast, rewritten or redistributed. We strive to uphold our values for every story published.