Photo Gallery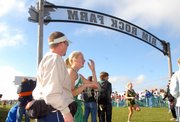 Rim Rock Farm cross country
Nobody had to say much to give the Free State and Lawrence High cross country teams an incentive to perform well before taking the course Saturday at Rim Rock Farm.
Running solidly on the home terrain meant a big boost of confidence for regionals next week. It also meant leaving Rim Rock with no regrets. In two weeks, the state meet returns there, but there's no assurance that any of the Firebirds and Lions will be present.
"What we talked about yesterday with our varsity folks was to make sure you run really well out here because you're not guaranteed that you'll get back here," Free State coach Steve Heffernan said.
Apparently, that was all either school needed to hear.
Behind the strong running of senior Kyra Kilwein, Free State's girls team claimed first place at the Sunflower League meet for the second year in a row. On the boys side, Lawrence's Roy Wedge took first place individually, helping to propel his Lions into second place overall.
All in all, a pretty nice day for the two schools on the home course.
"It was a good barometer for where we can be at state," said Lions co-captain Ben Wilson, who finished the boys 5K race in sixth place. "We definitely gave a good effort today, and I'm really proud of the guys. It was the best race we've had by far."
All seven of the Lions' varsity boys runners finished in the top 29, pushing them well ahead of third-place Shawnee Mission North.
Wedge said he strategized with coach Brian Anderson to break out from the pack early, trying to gain as much ground as possible for the stretch run. It worked to perfection, as Wedge dominated the boys race in 16:24.53, more than 12 seconds ahead of second place.
"It feels really good," Wedge said. "We started training at the end of May, so it's really good to finally get some achievement."
Free State's Logan Sloan had the best Firebird boys showing with a fourth-place finish. His time of 16:44.50 was nearly eight seconds better than the rest of the field.
Sloan, whose team placed eighth, said he felt pleased with his team's performance.
"We want to come back here very badly," Sloan said of returning as a team to the state meet. "We don't want this to be our last race at Rim Rock."
On the girls' side, meanwhile, Kilwein continued her running brilliance in the 4K, trailing only Shawnee Mission Northwest's Lisa Imgrund in the 92-runner field. Kilwein's race of 15:38.19 bettered the next best competitor by more than 19 seconds.
"I was getting tired toward the end," said Kilwein, who had to be helped to her feet after collapsing at the finish line. "I was just preparing myself and my girls team to win state, so that was our main focus."
Free State's Lynn Robinson was fifth in 16:13.46, one of five Firebirds to finish in the top 29 for the girls.
Lawrence's Lucy Daldorph produced the top Lions finish for the girls with a 46th-place showing. As a team, LHS was 11th of 12 teams.
"All together, our top three were pretty close," Daldorph said. "Next year, we're going to work a lot on pack running because our girls team needs to get stronger."
Heffernan came away most impressed with his Firebird girls' performance. Following a midseason lull, he said his team was back on track. And with a similar showing next week, it can expect to be back at Rim Rock in two weeks.
"Given how the girls did today, I think they're going to feel very well and ready to come back and see if we can make a run for the state title," Heffernan said.
Copyright 2018 The Lawrence Journal-World. All rights reserved. This material may not be published, broadcast, rewritten or redistributed. We strive to uphold our values for every story published.