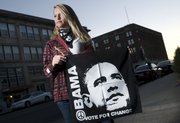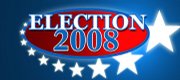 In-depth coverage of the candidates and the issues, all leading up to the Aug. 5 primary and the Nov. 4 general election.
When she was growing up, Kristin Freese, 26, wanted nothing to do with politics. She was raised in a conservative household in Glasgow, Mo., where political media took the place of morning cartoons and turned her off to partisanship.
"I just didn't have any faith in the system, or anybody, up until this point," she said.
Now, Freese is the woman behind the "Obanda," a Barack Obama bandana.
Last April, after randomly picking up the book, "Obama: From Promise to Power," by David Mendell, a Chicago Tribune political reporter, she was inspired.
"I got more and more intrigued, read it cover to cover," she said.
"I was just kind of blown away by the cultural uniqueness, his life story, having a father from Kenya, a second father from Indonesia and being raised in Hawaii," she said. "I felt like it was kind of an interesting palette of knowledge that we've never seen before."
In May, Freese, who graduated with an industrial design degree from Kansas University in 2005, designed a black-and-white bandana using Photoshop that included Obama's face, a peace sign and the words, "Time for change."
That was before Obama was even on the ballot and before change became one of his campaign slogans.
It was a risk, she said, but something she felt compelled to do.
"I'm not pushing my beliefs on anybody or trying to go out there and be a politician myself," she said. "I'm a designer."
She wasn't expecting the mixed reactions she has received - from hate mail about certain issues to requests for more bandanas. Either way, she said, it's made her politically involved, something she never expected. "I got inspired by a man, and I made a product for the people who do like him," she said.
The Obandas are sold at Wild Man Vintage, 939 Mass., and obandas.com.
Copyright 2018 The Lawrence Journal-World. All rights reserved. This material may not be published, broadcast, rewritten or redistributed. We strive to uphold our values for every story published.