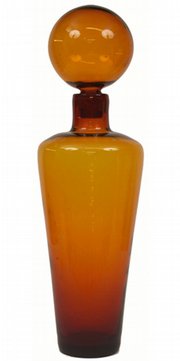 Current prices
Current prices are recorded from antiques shows, flea markets, sales and auctions throughout the United States. Prices vary in different locations because of local economic conditions.
¢ Record, "Hey Little Girl," Del Shannon, Big Top Records, 1961, 45 rpm, $45.
¢ Rooster cookie jar, orange, turquoise, brown, yellow and beige, Twin Winton, 11 1/2 inches, $95.
¢ Fairbanks Gold Dust Washing Powder carton, twins arm-in-arm behind a pile of gold coins, beige ground, 1910, 12 x 18 x 13 1/2 inches, $100.
¢ Clark Gum advertising clock, tin lithograph, 3 flavors of gum, logo, navy ground, 1960s, 11 1/2 x 28 inches, $150.
¢ Carnival glass water set, Grape & Cable pattern, amethyst, 8-inch pitcher, set of 6 tumblers, $435.
Collectors are beginning to realize that Blenko glass has had an important influence on glass design in America.
The Eureka Art Glass Co. (later renamed Blenko Glass Co.) opened in Milton, W.Va., in 1921. William Blenko, Eureka's founder, had tried glassmaking before but had failed. He soon introduced some manufacturing improvements. He invented a process for making large sheets of antique-looking glass and developed a ruby glass that didn't change color when reheated.
The company made a good product, and Blenko's son Bill was a successful salesman. The glassworks sold colored glass for stained-glass windows, but the Depression destroyed that market.
So the company started to make tablewares. Blenko hired two trained Swedish glassblowers who made classically shaped glass in many colors. They also made reproductions of old glass as well as modern designs.
By the mid 1940s, after the war, unusual forms of colorful glass were sold. Blenko glass became a favorite in gift stores and an ideal decoration in a '50s room. Chartreuse-colored glass was a hit, abstract designs sold well and very tall colored vases were designer favorites.
The glass was considered important enough to be included in museum exhibits right next to the best Swedish and Italian pieces.
Blenko is still working today, and its glass pieces are still cleverly designed and sell well. Collectors have started to buy the earlier pieces, and prices are rising. Signed pieces bring the highest prices.
Q: I have a small, silver-plated t ray with an engraved and embossed image of President James A. Garfield in the center surrounded by some sprigs of laurel. The tray sits on four short legs and has two side handles. Its raised rim is embossed with birds and more laurel. The mark on the bottom is round with scales in the center and "Meriden B Company" around it. What was the tray used for, and why is Garfield on it?
A: Meriden Britannia Co. of Meriden, Conn., made your commemorative tray, probably shortly after Garfield was assassinated in 1881 (he died in September, two months after he was shot). Meriden was in business from 1852 until it joined many other silver companies to form the International Silver Co. in 1898. Your tray is made of white metal plated with silver. It's probably a "card receiver," a small tray meant to hold the calling cards of visitors. During the Victorian era, both men and women carried calling cards, to be left at the homes they visited. A similar Garfield commemorative calling card tray made by Meriden auctioned this year for $46.
Q: I bought a Chinese teakwood blanket chest at auction in the 1980s. The original sales receipt came with it, showing that it had been purchased from South China & Co. in Hong Kong in 1955. The chest and a set of four teakwood nesting tables then cost $85. The chest is 40 inches tall by 40 inches wide by 19 1/2 inches deep. All of its original brass hardware is intact. What do you think it's worth today?
A: South China & Co. opened in Hong Kong in 1948 and trades in all sorts of Chinese merchandise. Your chest would sell today for $300 to $500.
Q: Please help me with what seems to be a mystery watch. On the face, it says "Copr. 1952 United Feature Syndicate Inc." It has a child-size white band and a picture of Lucy from "Peanuts" on the face. She's wearing a yellow dress. The watch has a second hand and runs perfectly. My friends who collect watches or jewelry haven't been able to help me. Can you tell me something about the watch?
A: Charles Schulz (1922-2000) illustrated the "Peanuts" comic strip (originally "L'il Folks") from 1950 until his retirement in 2000. The strip is still syndicated nationwide. Character-related merchandising began early, and now includes everything from clothing to amusement park rides. A Lucy character watch was made by the Bradley Watch Co. in 1958, but yours is the 1974 watch by Timex (the Bradley watch has no second hand, and Lucy is wearing a red dress). The 1952 copyright date on the watch face refers to the year the Lucy character was copyrighted, not the year the watch was made. Today, a 1970s Lucy Timex watch in working condition sells for about $70.
- Terry Kovel answers as many questions as possible through the column. The volume of mail makes personal answers or appraisals impossible. Write to Kovels, (name of your newspaper), King Features Syndicate, 300 W. 57th St., New York, NY 10019.
Copyright 2018 The Lawrence Journal-World. All rights reserved. This material may not be published, broadcast, rewritten or redistributed. We strive to uphold our values for every story published.