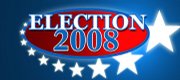 In-depth coverage of the candidates and the issues, all leading up to the Aug. 5 primary and the Nov. 4 general election.
Among 75,000 exuberant supporters, Democratic presidential candidate Barack Obama gave a twilight address Saturday at the Liberty Memorial in Kansas City, Mo.
And while highlighting the Iraq war, education, the economy and the uncertainty of modern times, he returned to his motif of hope, change and aspiration.
"I know folks are worried," he said. "But I believe we can steer ourselves out of this crisis because I believe in this country."
Throughout his speech, he reaffirmed his policies and continued saying that his opponent, Sen. John McCain, had been bombarding him with negative campaigning and out-of-touch statements.
The crowd was eclectic: Some were Kansas City residents and others were University of Missouri students. Many Lawrence residents also made the 45-minute trip with a common sentiment: that Obama's speech would be history in the making.
Take Liz Williams, for example. A employee for Lawrence Parks and Recreation, she said she thought Obama's speech would be ringing in spectators' heads for quite a while.
"It's one of those history-making things. Whether he wins or not, he's still an important person in our nation's history," Williams said. "He's just a man, after all. But I'm excited to hear what he has to say."
During his speech, Obama joked about his ability to bring two opposing groups of people together: fans of Kansas and Missouri universities.
Kurt Close, a freshman at the University of Missouri, said such an event transcended school rivalries.
"We're all here for the same reason," he said, wearing a Mizzou shirt. "I like the fact that these two schools come together."
Studie Red Corn, a 2008 Kansas University graduate, voiced a similar opinion: that, in the end, the unification of a group under a single cause was the important underlying issue.
"In essence, it's great for all those people to be there," he said. "It's a place for everyone to get together and appreciate the guy."
Obama's speech was preceded by a charged speech from U.S. Rep. Emanuel Cleaver, D-Mo., who declared, "We have had enough of politics as usual in Washington.
"Let me declare before the whole world," he said, "this is Obama territory."
Kansas Gov. Kathleen Sebelius also spoke at the event, voicing her support for Obama and other Kansans who are running for political office.
And even though much of the speech was geared toward the bellwether state of Missouri, plenty of Kansans attended just to see Obama in person.
Tyler Means, a Kansas University graduate student, said he liked how the senator appealed to his ideals.
He chose to come to Kansas City for the Obama speech instead of watching the Kansas-Oklahoma football game.
"I could watch Oklahoma beat Kansas any day," he said.
Copyright 2018 The Lawrence Journal-World. All rights reserved. This material may not be published, broadcast, rewritten or redistributed. We strive to uphold our values for every story published.