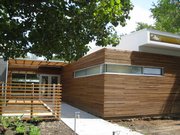 The Unitarian Fellowship of Lawrence plans to dedicate its new building addition at 3:30 p.m. Sunday at the church at 1263 N. 1100 Road. A reception will follow the dedication.
The addition, which has a modern feel, is being dedicated a little more than a year after its Sept. 17, 2007, groundbreaking, after seven months of a capital campaign to raise the funds.
The new addition houses a sanctuary and meeting hall, a reception hall and kitchen facilities and can hold about 180 people, nearly twice the capacity of the hall space in the original building. That means a more comfortable space for the current membership of 157. The church's first service there took place Sept. 21.
The space also has had a few surprises for the congregation that have worked nicely, says Valerie Roper, the church's fellowship board chair.
"Since the new addition physically connects our meeting and reception area more closely to the children's religious education wing, the children and their programs naturally flow and integrate easily into the overall fellowship experience," Roper says. "Also, since the back wall of sliding glass doors in the new sanctuary and meeting hall opens to the fellowship grounds, it is already clear that both adults and children will make more extensive use of that space and more fully enjoy it."
The church's former space will be used for office space, classes, meetings and a library, Roper says.
Copyright 2013 The Lawrence Journal-World. All rights reserved. This material may not be published, broadcast, rewritten or redistributed. We strive to uphold our values for every story published.