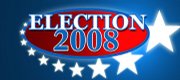 In-depth coverage of the candidates and the issues, all leading up to the Aug. 5 primary and the Nov. 4 general election.
The leading Democrat in the state Senate on Friday said a television campaign ad by Republican Scott Morgan against state Sen. Marci Francisco, D-Lawrence, was inaccurate and should be pulled off the air.
"These attacks have gone too far," Senate Minority Leader Anthony Hensley, D-Topeka, said. "Scott Morgan needs to know that representing the people is serious business. His campaign is built on a series of attacks on Marci full of half-truths and outright lies," he said.
But Morgan said that his ad was accurate and that he has no plans to change it. "The ad will continue," he said.
Morgan's ad criticizes Francisco, saying she voted "present and passing" 50 times during her four years in the Senate. Bill numbers scroll by during the ad's narration.
But Hensley said on 15 of those bills Francisco voted for or against. He provided a list of the votes that he said Morgan got wrong.
As an example, Hensley cited House Bill 2066, which would have allowed construction of two coal-fired power plants. Francisco was a vocal opponent of the project and voted against the bill, but Morgan lists her as having voted "present and passing."
Hensley said, "This is patently absurd. On page 1,296 of the 2008 Senate Journal you can clearly see that I joined Marci on the explanation of her no vote," he said.
The Senate Journal is the official record of business of the state Senate. The bill was approved 33-7. Francisco voted against the bill, and entered a statement explaining her vote.
But Morgan said his ad refers to the time when Francisco voted "pass" on an amendment to the bill. On the ad it lists "HB 2066 Coal Plants." Also written on the ad, is "Details at www.ScottMorganforSenate.com." On his website, Morgan links to the votes he has criticized Francisco over.
"The whole complaint seems to be whether the measures shown in the ad are amendments, final passage, conference report or some other legislative detail. Her only defense is that my ad doesn't list the full technical name of the piece of legislation on which she passed," Morgan said.
Hensley also said Morgan's allegation that 50 "present and passing" votes was the most in the Senate was misleading. Francisco has been listed as "not voting" on three bills since 2006, while some senators missed more than 100 roll call votes, he said.
Francisco has said that a "pass" vote is essentially a "no" vote because it takes 21 "yes" votes in the 40-member Senate to approve a bill.
Francisco said she sometimes votes "pass" specifically to raise concerns from her district. A "pass" vote, she said, indicates to others that she may be willing to negotiate for something her constituents want.
Copyright 2018 The Lawrence Journal-World. All rights reserved. This material may not be published, broadcast, rewritten or redistributed. We strive to uphold our values for every story published.