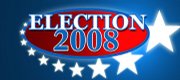 In-depth coverage of the candidates and the issues, all leading up to the Aug. 5 primary and the Nov. 4 general election.
Overland Park — Republican congressional candidate Nick Jordan on Thursday charged his opponent, 3rd District U.S. Congressman Dennis Moore, as a major contributor to the country's current economic crisis.
Jordan compared Moore to Nero, playing the fiddle while Rome burned, as he detailed an amendment Moore co-authored that Jordan says gutted a 2007 bill increasing regulation of Freddie Mac and Fannie Mae. He also criticized Moore's support of the bailout bill, charging Moore with accepting $2 million in campaign contributions from Wall Street companies, including contributions from those directly impacted by the bailout bill on the day the bill passed. Moore denies the allegations.
Jordan, currently a state senator representing the 10th District, which includes Shawnee, promoted the announcement as proof that Moore had a central role in the economic crisis now affecting the nation and a perfect example of why change is needed in Washington.
"I think you need to look at the process that brought us to this point, and we need to realize that there was a lot of people ignoring the problem, ignoring solutions to the problem, and they let it become a crisis," Jordan said.
Jordan pointed to a bill, H.R. 1427, the 2007 Federal Housing Finance Reform Act, which the House passed in May of 2007 to establish a new regulator for government-sponsored enterprises, including Fannie Mae and Freddie Mac. With three other House members, Moore co-authored amendment that Jordan said limited the authority of new regulators.
"The affect of Dennis Moore's amendment, which became law, prevented authorities from considering the threat that the bloated size of Fannie Mae and Freddie Mac's toxic loans posed to the larger U.S. and world economies," Jordan said. "It prevented the regulator from reducing Fannie Mae and Freddie Mac's size if they were about to trigger the financial melt-down.
"The Wall Street Journal, National Public Radio and the Washington Post all agree, Moore's amendment resulted in a regulator that would lack the authority to limit the risk that Fannie and Freddie's $1.4 trillion mortgage-backed securities portfolios posed to the entire financial system," he added.
However, while Jordan said the H.R. 1427 amendment passed into law, Moore's office said it died because it was never considered by the Senate.
After he was made aware of Jordan's statements, Moore responded by saying Jordan was misrepresenting the amendment.
"I don't think Nick Jordan knows what he's talking about," Moore said. "The amendment that I offered was intended to increase, to enhance regulation of Freddie and Fannie - not to decrease but to increase regulation, but make sure they still have an opportunity to do their job. But certainly not to lessen regulation."
Jordan also pointed to Moore's role on the House Financial Services Committee, in charge of overseeing Fannie Mae and Freddie Mac, saying he had not done enough to prevent the current economic crisis. He said the committee pushed policies that directed Fannie Mae and Freddie Mac to increase the "toxic" high-risk loans that led to the crisis, adding that Moore had taken $30,000 in campaign contributions from the two, more than any other Kansas elected official.
Jordan also criticized Moore for accepting campaign contributions from companies related to Wall Street.
"For 10 long years, Dennis Moore sat on committee responsible for holding Wall Street accountable and failed to stop them, but he did take nearly $2 million in campaign cash from Wall Street special interests and then recently voted to bail them out," Jordan said.
Jordan said that on Sept. 29, Moore took nearly $34,000 in campaign cash from some of companies affected by the $700 billion bailout bill.
"Wachovia and General Motors are two of those who gave him money," Jordan said, providing a document that showed several insurance-related contributors from Sept. 29.
Wachovia contributed $2,000 on that day, though the document did not include information for General Motors.
"If they are so broke, why would they have so much money to hand out?" Jordan said.
Jordan said he has never taken money from businesses or groups that one of his committees had regulatory authority or oversight on.
Moore said he had tried to take action on the housing crisis, voting in support of the 2005 Federal Housing Finance Reform Act, which also would have created more regulation for Fannie Mae and Freddie Mac. It was another bill that was approved by the House and never considered by the Senate due to opposition in the White House.
Moore said he didn't know of any contributions from Wall Street firms or from Fannie Mae and Freddie Mac.
"Whatever contributions are reported on our returns are there," he said. "I don't know; I haven't seen them."
In response to Jordan's metaphor for Nero and charges that Moore had looked the other way with the oncoming economic crisis, Moore said it was an attempt to garner media attention.
"Nick Jordan has a lot of fantasies, and he's not averse to stating those in front of the news media," Moore said. ": We should be talking about the real issues facing our country right now, and he should not be making up things like this."
Copyright 2018 The Lawrence Journal-World. All rights reserved. This material may not be published, broadcast, rewritten or redistributed. We strive to uphold our values for every story published.