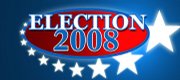 In-depth coverage of the candidates and the issues, all leading up to the Aug. 5 primary and the Nov. 4 general election.
Baldwin City — Baker University students showed their concern about the national economy by the questions they posed to state and local candidates at a forum Tuesday night on campus.
State Senate candidates Tom Holland, D-Baldwin City, Roger Pine, R-Linwood, and Patrick Wilbur, a Libertarian from Lawrence; State House of Representative choices Tony Brown, D-Baldwin City, and John Coen, R-Baldwin City; and Second District Douglas County Commission candidates David L. Brown, a Republican, and Nancy Thellman, a Democrat, were on hand.
The last question of the forum came from a student who said he was scared for himself, his family and his state and wanted to know what the candidates could do.
"I think fear is a rational reaction to the current situation," said Tony Brown, who has been a professor at Baker for 18 years. "What I'd say is, can't we talk about issues? We're talking about what a presidential candidate's middle name is or how many houses the other one has. We spent an entire legislative session talking about coal-fired power plants. That's an important issue, but there were others.
"I think the people are tired of partisanship," he said. "Can we stop yelling at each other and get along?"
His opponent, Coen, has been a dairy farmer equally long. "I would say that you're wise to be concerned, but don't worry," Coen said. "There have been bad times in the past and we've made it through."
Time to panic?
The Senate candidates weren't as sure.
"It's time to think about panicking," said Wilbur, a scholarship coordinator at Kansas University. "It's not working in Washington and it's not working in Topeka. The bailout was shameful."
Pine, another longtime farmer, said the student wasn't alone.
"I don't blame you for being scared," Pine said. "I don't think it's just your generation or my generation or any generation. Fiscal responsibility comes to mind. You're doing the right thing by getting an education."
Holland said he understands the fear, but there's the need to get beyond it.
"We know change is happening even more rapidly," Holland said. "My top priority will be to provide educational opportunities because that's what creates jobs."
The county commission candidates, who couldn't answer many of the other questions posed because they didn't have control over tuition or health care, for example, could offer answers for the economy.
"We have to unite," said David Brown, a retired Douglas County Sheriff's officer who also farms. "Use your money wisely. I've even heard bankers say, save your money. Keep your credit cards paid off."
Thellman eyed the future.
"I would work strongly on the planning in Douglas County to go into the future so that you and your classmates have jobs," she said.
Accountability
Another student asked why the candidates thought the economy was in poor shape and what could be done. They agreed, mostly on the why.
"No. 1, I truly believe we're suffering form a lack of accountability," said Holland, adding that eight years ago there was a budget surplus in the country instead of the trillions of dollars of debt. "We need to have accountability for our national leaders. We're going to have to make some sacrifices. It's going to be very painful for the next two or three years.
"I agree with Tom, it's accountability," Pine said. "At the state level, I think it's going to be a tough year, but I think we're in pretty good shape, but not as good a shape as I'd like to be."
"You need to hold the national leaders accountable and to do that you need to send them home," Wilbur said. "These are going to be tough times."
"I've farmed all my life and will be very fiscally responsible and will not raise your taxes," Coen said.
"Raising taxes in these economic times is suicidal," Tony Brown said. "But our needs are not going away. We need to grow the economy. I would look at ways we can expand our state coffers. We need to think in different ways."
"I think there's enough blame to go around," David Brown said. "We need to stay together as a country. We can't be Republican, Democrat or Libertarian. We need to be united. We need to expand our tax base to grow the economy."
"It's a tall order, but at the county level it's time to hunker down and take care of what we have," Thellman said. "We need to take a long look at what we are planning for the future. That doesn't take much money."
Copyright 2018 The Lawrence Journal-World. All rights reserved. This material may not be published, broadcast, rewritten or redistributed. We strive to uphold our values for every story published.