On the street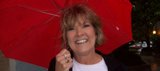 I think it's fine to celebrate Columbus Day, because it happened and it's history. And I got the day off.
About 50 people gathered Monday afternoon in South Park to protest the celebration of Columbus Day. They marched up and down Massachusetts Street, then gathered at Haskell Indian Nations University to hear former professors tell a different version of the Christopher Columbus story.
"We really want to stress the re-education of children because I think too often the fairy book story of Columbus is what's told," said Derrick White, a senior at Haskell and the president of the American Indians Studies Club. "I think that it's just a misappropriated holiday."
The group talked about struggles facing the American Indian community today and prayed. The group wants to focus on getting others to see how Columbus plays a role in their history.
"How can America be discovered when somebody was already here?" said Lawrence resident Travis Brown. "He was just a lost soul looking for another land, a trade route and other riches for an empire."
The group chant called for Indigenous Peoples' Day to be celebrated instead.
And some hope that Haskell's presence can help to spread their message.
"If that education is not going on right here where one of the major universities in Indian Country is, then it's not going to be told around the country," said Margaret Stevens, a recent Haskell graduate.
White said the education about Columbus Day was not sufficient and needed to change. Columbus, he said, is not the kind of man who should be celebrated.
"I grew up in Lawrence and I know that Columbus Day was definitely a very touchy day for me growing up in this community," he said.
Brown agreed.
"I grew up in the mainstream society and I was pretty culturally diverse, so being one of the few Native Americans it was hard for me to be able to stay in touch with the reality of who I was," he said.
Stevens said this is not an issue only for the second Monday in October.
"I think it's important for us to do that not only on Columbus Day, not only in Indigenous Peoples' Day, but every day," she said.
President Richard Nixon declared Columbus Day a national holiday in 1971.
Copyright 2018 The Lawrence Journal-World. All rights reserved. This material may not be published, broadcast, rewritten or redistributed. We strive to uphold our values for every story published.