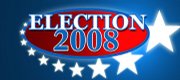 In-depth coverage of the candidates and the issues, all leading up to the Aug. 5 primary and the Nov. 4 general election.
Sarah Palin's statement that Democrat presidential nominee Barack Obama is "palling around with terrorists" concerns Robert Rowland.
"It is both a ridiculous comment and a dangerous comment," Rowland, professor of communication studies at Kansas University, said of the recent statement by the Alaska governor and Republican vice presidential candidate. "Rhetorical violence leads to real violence sometimes."
Rowland, a longtime KU professor whose research interests include rhetorical criticism, spoke to a gathering of about 90 people Sunday at the Natural History Museum on KU's campus.
His lecture on presidential campaign rhetoric was the latest in the CLAS Acts series presented by KU's College of Liberal Arts and Sciences. Rowland disclosed to the audience he has assisted Democrat political candidates in the past.
Rowland showed video of television advertisements, candidate speeches and the debates. He discussed how Obama's message has propelled the junior U.S. senator to his current spot, the rhetoric of Republican nominee Sen. John McCain's campaign and Palin's role on the Republican ticket.
Rowland said recent comments such as the shout "off with his head" - referring to Obama - at a recent Republican rally are comparable to, if not quite as bad as, the extreme rhetoric preceding the 1994 assassination of former Israeli Prime Minister and Nobel Peace Prize winner Yitzhak Rabin.
"In Israel, it led an Israeli citizen to assassinate Israel's greatest military hero, the man who led Israel in the Six Day War," said Rowland, co-author of "Shared Land/ Conflicting Identity," a book on Israeli-Palestinian rhetoric. "That makes me very concerned about rhetorical violence."
He commended McCain for disagreeing with some recent statements disparaging Obama.
In discussing the Democratic nominee, Rowland said hope is not Obama's key theme, but a result of other rhetoric, a revitalization of the American dream that is both similar to and different from the rhetoric of Ronald Reagan.
"What Obama does is recast the American dream away from the story that focused on individualism in the Reagan era to a story that's focused primarily on community first," he said.
A dominant theme of McCain's campaign has been "McCain the maverick," Rowland said, but casting the candidate in this light is problematic. McCain was genuinely a maverick on policy issues including recognizing Vietnam, tobacco, campaign finance, Pentagon spending, the Iraq War troop surge and climate change, Rowland said. But many of the issues that made McCain a maverick are either no longer relevant, or McCain has changed his position, or his position is unpopular with his party, Rowland said. So, he said, McCain promotes himself as a hero, but this, too, has problems.
"We don't vote on heroic status alone and thus there has to be something else," he said. "The only way they win is to label Obama as simply unacceptable ... to label him in essence as 'the other.'"
And this brought Rowland to the subject of Palin.
Palin, he said, has many traits that appeal to voters, such as her personal story as a mother as of a special-needs child and with a son serving in Iraq with the Alaska National Guard. Palin also sends out the ticket's message about Obama, Rowland said.
"She is the vehicle that McCain has used more than anybody else to label Obama as an unacceptable candidate," he said.
Matt Hedrick, a KU freshman from Carrollton, Mo., who attended the lecture, said that as he observes the race for the White House, he's taking note of negative campaigning and how it sways voters.
"It's really surprising that that's what influences voters," he said. "I try to take the negative with a grain of salt and focus more on what I know for certain, and other things, the positive things that people have done. The negative plays a role, but I don't base my vote entirely on that."
Copyright 2017 The Lawrence Journal-World. All rights reserved. This material may not be published, broadcast, rewritten or redistributed. We strive to uphold our values for every story published.