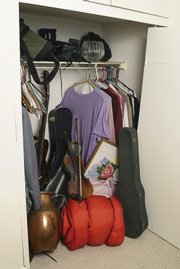 "Bless this mess" may be a cute phrase for the cleaning-challenged, but a mess that's more than a mess may be a serious problem.
An uncontrolled mess could be more than just a clutter bug at work. It could be a sign of obsessive compulsive disorder.
But when does a common pack rat spill over into the territory of the much more serious hoarder? Professor Rosemary Kennedy Chapin, director of the Office of Aging and Long Term Care at Kansas University, says there is definitely a clear line.
"One indicator would be if it's beginning to impact their capacity to do activities in daily living," Chapin says. "If you've stacked stuff in spaces where you would normally walk ... if it's stacked on countertops, you might not be able to prepare food and eat."
The things hoarders collect can be as varied as their ages, ethnicities and socio-economic classes, says Sandra Lawrence, coordinator of anxiety disorders treatment at the Bert Nash Center. They can collect anything - valuables, trash, newspapers or animals - and be of any age.
"It's probably just as common with younger folks, but I think the reason it's more of an issue with the elderly is that they are not as able to do things for themselves ... maybe they fall and someone comes into the home and sees what it looks like," Lawrence says, adding younger people may just simply keep others out of their home. "So it's definitely not an aging issue per se, its just that they come to the attention of others."
Though, if it does come to your attention, forced cleaning isn't exactly effective, Lawrence says.
"Repeatedly it's been shown that if someone goes in and forcibly cleans up the house, it'll return to the same state, if not worse, within months. Because it's not getting to the underlying issue," she says. "I mean, that's what sets apart a true hoarder from someone who is just a clutter bug. So, unless you treat the underlying anxiety issue, the hoarding will resume."
Some cities, including Topeka, Wichita and Kansas City suburbs have task forces devoted to the problem of hoarding. Lawrence doesn't have a task force, but Jocelyn Lyons, management team leader for the Jayhawk Area Agency on Aging, says that her group has discussed starting a task force for Douglas County.
What should one do if worried about a loved one who may be hoarding? Lawrence says start by asking the person what's going on and make sure it's not just a temporary feeling of being overwhelmed.
"But if it's truly hoarding, if it's truly an anxiety disorder, encouraging the person to get into some type of treatment would probably be the best thing to do," she says.
Copyright 2018 The Lawrence Journal-World. All rights reserved. This material may not be published, broadcast, rewritten or redistributed. We strive to uphold our values for every story published.